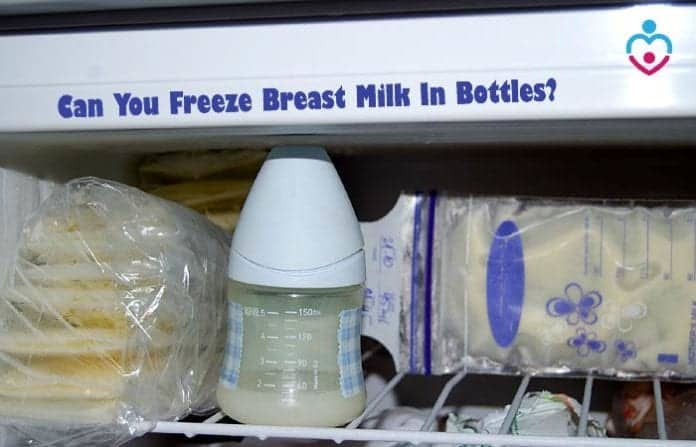 Freezing breastmilk to store it for a longer time is an excellent option for many mothers. You can have milk supplies for months to come as long as you do this correctly. One of the most essential aspects you need to pay attention to is the type of containers you use to store breastmilk.
Bottles are the most common types of containers that mothers think about when it comes to freezing milk. But, can you freeze breast milk in bottles? Read on.
Can you freeze breast milk in bottles?
Yes, you can use bottles to store breastmilk in the freezer. But there are a few aspects you need to consider when you are freezing your breastmilk.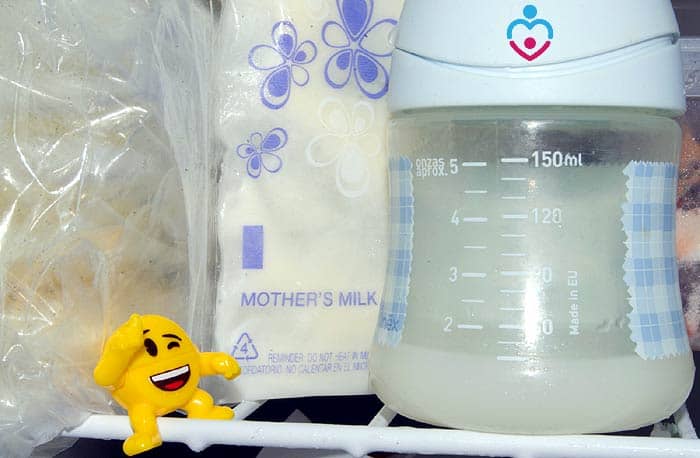 The bottles you use should be made of glass or a type of plastic that is safe for breastmilk storage. This means that you want a container that is made of a hard and BPA free kind of material unless you choose glass bottles.
Typically, glass bottles are considered to be the best for storing breastmilk. They are chemicals free, and they don't present any type of hazard for your baby. But you need to make sure you don't break them. Breaking glass bottles is the main risk, and that would waste a good quantity of milk.
If you use bottles to store your milk, make sure you take the nipple off them. You don't want any air to get into the milk container. This could invite bacteria and also unnecessary ice, so avoiding it is the best. Plus, you could spill the milk as you move the bottles if they have a nipple on. Such messes can simply be avoided by using a leak-free lid instead of the bottle nipple.
Don't fill the bottles all the way to the top. This depends, of course, on the size of the containers as well. But as a general rule, you should consider freezing only one meal per bottle. This could mean a maximum of 90 ml for babies up to two, three weeks old.
If your baby is between one month and six months old, they might drink up to 150 ml per meal. It is always easier to defrost just as much milk as you need to feed your child. This saves you from wasting milk and having to defrost more than one container for only one serving.

We ♥ honesty! Nursing Moms earns a commission through the following hand-picked links at no extra cost to you.
Best Bottles For Freezing Breast Milk
The following bottles are the best ones on the market, which are considered to be safe for freezing breast milk.
1. Lansinoh Milk Storage Bottles
The first bottle we recommend is Lansinoh Milk Storage Bottles.
These bottles work with any Lansinoh breast pumps and nipples for easy feeding.
The volume marks are engraved into the container for quick reading on how much you have pumped so far.
These bottles hold up to 250ml or 8 ounces of breast milk.
These bottles are safe for babies since they are BPA and BPS free and also dishwasher safe.

2. Medela Milk Storage Bottles
The next brand of freezing bottles we recommend is from Medela.
Like the Lansinoh bottle, Medela Milk Storage Bottles are too compatible with all models of Medela breast pumps and nipples.
These bottles also have the volume marking for easy tracking.
You can store up to 250ml/8 ounces of breast milk.
They are BPA/BPS-free and safe for the dishwasher too.

3. Matyz Glass Breast Milk Storage Containers
The next storage bottles for breast milk we recommend is from Matyz.
These storage glass bottles are made with borosilicate, which means they are safe for both freezing and boiling.
As they are made with glass material, they cause fewer stains and would have less odor than plastic bottles.
These bottles are also dishwasher safe.

4. Philips AVENT Storage Cups
The next set of storage containers are not bottles but rather small cups. These cups are from Philips AVENT.
You can pump into these containers, store, freeze, and directly feed from these cups.
These cups hold up to 6 ounces of milk.
These Philips AVENT storage cups come with a nice screw-on lid for tight sealing when freezing.
These BPA/BPS-free bottles are safe for dishwasher usage.
When not in use, you can stack these cups within one another for saving space on your cupboard.

When you're shopping for the storage bottles, consider buying the reusable labels as well for noting down the date of pumping.
It is essential to follow these guidelines when you are freezing your breastmilk. Your main goal is to store it in perfect conditions so that your baby can still get the nutrition they need from it.
If you have any concerns regarding the types of bottles you use to freeze breastmilk, you can always invest in special containers created right for this purpose.
However, if you use the right containers, you shouldn't have any trouble storing your milk in the freezer in proper conditions. This will save you a lot of hassle during your breastfeeding months!
Once you get used to freezing breastmilk, you will see that the entire breastfeeding routine will get more comfortable and less stressful.

Key References