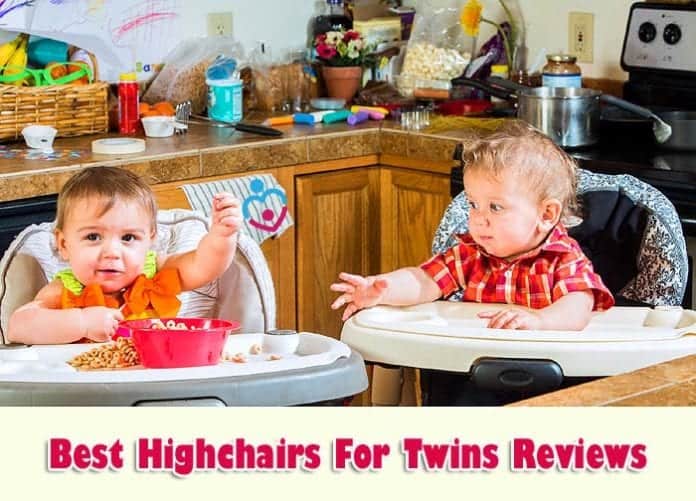 Best Highchairs For Twins: Choosing the best high chair for your baby might be more challenging than it seems. If you have twins, that is a double hassle to go through. You want to look at highchairs that are both functional and comfortable so your little ones will enjoy them.
Best Highchairs For Twins
Our Pick
All the highchairs for twins in this guide come at the best quality on the market. However, the KidsEmbrace models stand out from the lot and they are ideal for twins.
We ♥ honesty! Nursing Moms earns a commission through the following hand-picked links at no extra cost to you.
However, there is no need to worry as in this complex guide, you will find all the answers!
Best High Chairs For Twins – Comparison Table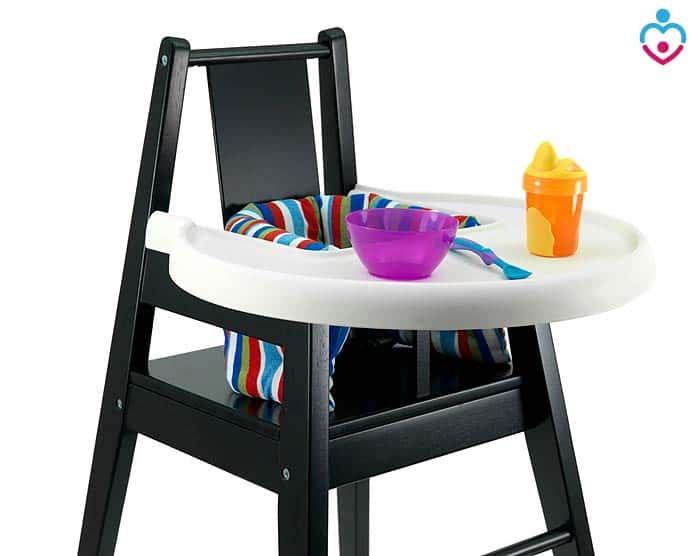 Highchairs are the first types of chairs your babies will use as soon as they can sit. These chairs will turn out to be very useful not just for your little ones but also for yourself, as a parent. You can put your baby in the highchair to sit and play, watch cartoons and eat their meals.
These highchairs have a unique structure to support your baby's body comfortably and safely. They are higher than other chairs to allow your baby to interact with you and the environment quickly and more enjoyable. Highchairs have a tray in front of them so that your toddlers will be able to feed themselves as soon as they are ready to do that.
To make the most out of these highchairs, you need to invest in the best ones on the market. Furthermore, we will see how you can choose the best highchairs for your babies and what features to keep an eye on.

Benefits of Highchairs for Twins
If you are thinking about the efficiency of these high chairs, here are a few essential benefits that you could keep in mind!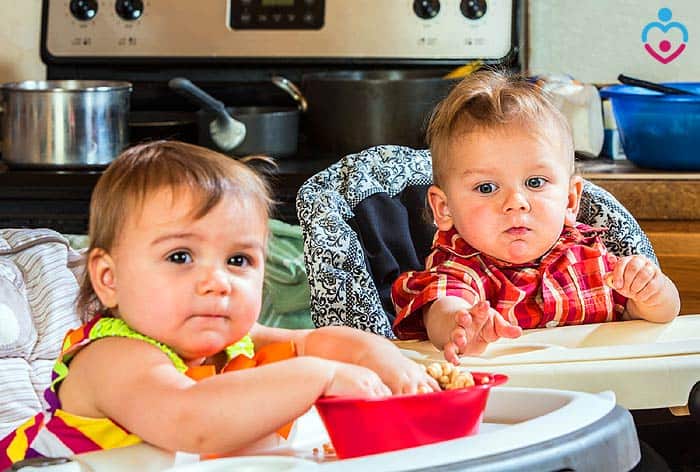 You can use them when your babies start eating solid food. As soon as your twins reach six months old, you will most likely begin to introduce solid foods to their diet. Feeding two babies is a challenge in itself. But if you use highchairs for twins, you can feed them at the same time. You might do this yourself or along with your partner. Either way, you will not have to make one child wait until the other one finishes their meal, as this could be very frustrating.
Let your children play in their highchairs: Twins will like to interact with each other, and as they grow older, they will want to interact with everyone else. If you put them in their highchairs, they will look at each other and the environment in a more comfortable and receptive way. You can let them find ways to play together and learn how to enjoy their favorite toys more.
Highchairs are safe: The safety of these highchairs is one of the most important benefits. Since you will be letting your children in these chairs for various activities, you will not have to worry about any hazards. They are built with a sturdy structure, and they lock the babies in place so that there is no falling risk.
Let your babies enjoy their favorite cartoons from their comfortable highchairs: Children love to watch cartoons. Even if too much television is not suitable for them, you can still give them some cartoon time. To do that, you will need high chairs that allow them to keep their backs straight and develop a proper posture as they are enjoying their favorite cartoons. Letting toddlers on the couch or bed to watch cartoons or play, could expose them to a lot of safety risks such as falling on the floor. To avoid such unpleasant events, highchairs could be a lifesaver.

What to look for in highchairs for twins?
If you want to enjoy all these benefits that highchairs for twins offer you will have to invest in the best products on the market.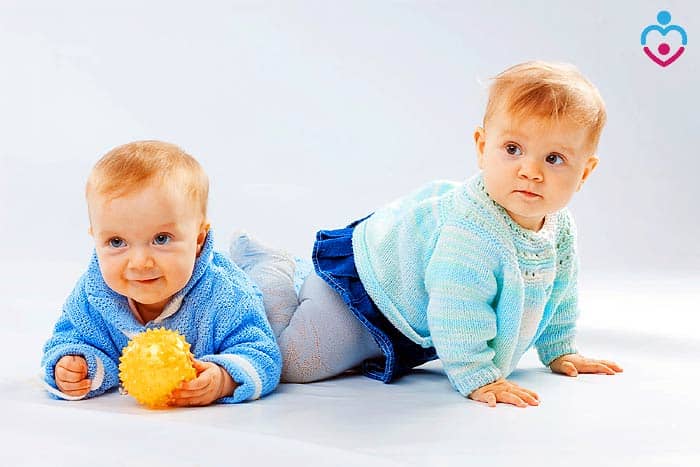 Here are a few things that you should consider before pulling your credit card out!
Safety: The most important thing to pay attention to is the safety of your twins. You have to be sure that they are not exposed to any danger as they sit in their highchairs. The way you strap the babies in is one of the main safety aspects. These chairs will have either straps or a buckle system to lock them in place. There should also be a harness attached to such a highchair so your baby can't lean forward more than they have to. A crotch post is essential as well, so that your little ones will not slide down their chair. Another safety point that you should not ignore is the wheels on some highchairs. You should make sure you can lock these wheels or simply choose highchairs without them.
Pay attention to the age limit and the weight limit: You need highchairs that will accommodate the age and weight of your twins. Some high chairs can be used up to three years old. Also, the maximum weight supported by these highchairs might get to 30 or 35 pounds. These are essential details that you need to look for before you purchase high chairs for twins. The longer you can use the highchairs, the more your investment will be worth it.
What accessories you want on the highchairs: Nowadays, you can find many types of highchairs for twins from the basic ones to more complex models. What you want to do is choose two identical chairs because the last thing you need is your babies arguing over who's chair is better. There are highchairs with trays as well as without trays. You will also find chairs that can be set at different heights or that come with different lock-in systems. If you decide on these details beforehand, it will be easier for you to find the best highchairs for your twins.
Portability: You might want to leave your babies with their grandparents for a weekend. If that is the case, you will most likely pack their highchairs as well. For such situations, you need highchairs that are easy to fold, and they don't take much space. Lightweight highchairs are also excellent quality to look for. All these details will help you transport your highchairs as you need every time you are traveling with your babies.
Space: The best highchairs for twins shouldn't take a lot of space in your kitchen or any other room you use them in. This aspect becomes even more critical if you live in a small house, and you have to consider your comfort as well. Measure the space you have available and compare them to the size of the highchairs that you are interested in purchasing. You will be grateful for doing so once you receive your package.

Best Highchairs for Twins
The following highchairs for twins follow all the safety norms that you can rely on. Plus, they have a series of exciting features to make them even more functional and comfortable for your little ones.
1. Graco Table2Table Premier Fold 7 in 1 Convertible High Chair
Graco is one of the best high chairs for twins you can rely on. It has everything you need to help your kids be comfortable and safe.
You can choose between three different colors and designs according to what your preferences are. All colors go great for both boys and girls as they are unisex.
This high chair comes with seven stages that you can use according to how old your baby is. You can use it as an infant high chair, a booster chair, the tray is removable, the chair comes with a convertible structure which includes a toddler table as well.
You also have the option to separate the chair into two chairs so you can sit two kids at the same time.
As this high chair is made of resistant plastic material with comfortable padding cushion, you can count on it for a long time. It is easy to clean and maintain, as well. The seat pad can be easily washed in the washing machine.
There shouldn't be any problem storing this highchair either as it is completely foldable, and it can be reduced to smaller dimensions. Also, you can set this highchair on five different heights.
Pros
Seven stages highchair
Perfect for infants and toddlers.
Easy to fold and store it.
Five different heights
Washable seat pad
Cons
The latch of this highchair might be complicated to lock as it is more complicated than other locking systems.
Not a budget-friendly price.
Check Price on Amazon

2. JOOVY Foodoo High Chair
Another highchair that is perfect for twins is this one from JOOVY. It has a more simple design than other chairs but yet very functional.
There are three different colors to choose from, such as a vibrant blue, black, and a Charcoal shade.
This highchair has eight different heights to choose from as well as five recline positions and two footrest levels.
You can simply fold the chair by using one hand, and you can move it or store it anywhere you want.
The weight limit is 50 pounds, which is more than most highchairs will support.
You can also adjust the tray just the way you need it and even remove it altogether. The insert is easy to wash in the dishwasher, too, so maintenance will not be a problem with this chair.
This chair comes with wheels so you can move it to different rooms of your home and have your kids always with you. Also, the wheels will not scratch your floor as you move the chair.
Pros
Eight height levels
Wheels included for increased portability.
Supports 50 pounds maximum weight.
Five recline positions
Easy to clean
Cons
It is not as convertible as other highchairs.
The tray might be easy to remove even for your twins.
Check Price on Amazon

3. KidsEmbrace Adjustable Folding High Chair
This highchair for twins offered by KidsEmbrace is a fancy version that your twins will simply fall in love with.
The first thing you will notice is the cute design of this highchair. You can choose between two different color combinations that follow the Batman-style. There are a boy and a girl version that is convenient for parents of such a twin pair.
You can clean this chair easily as the tray can be washed in the dishwasher, and you can wipe the fabric clean every time you need to.
This type of highchairs will accommodate your twins as they grow thanks to their flexible options. You get six seat heights as well as five recline positions and three footrest levels.
There are front wheels attached to this highchair model that allows you to move it as you need without struggling.
There is a harness that will keep your baby in place with no additional risks. This type of high chair is recommended for children with weights between five and 40 pounds and ideal until your little ones are three years old.
Pros
Easy to adjust highchairs for twins.
Recommended for kids up to three years old.
Easy to clean the fabric by only using a cloth.
The tray can go in the dishwasher.
Front wheels for increased portability.
Cons
The tray doesn't come off as quickly as other trays.
Check Price on Amazon

4. Ingenuity Trio Elite 3-in-1 High Chair
This Ingenuity highchair for twins will not disappoint you either. It is ideal for both boys and girls.
You can four interesting patterns to decide on, and they are all unisex, so they work for twin boys, twin girls, and mix pairs equally.
Cleaning these high chairs for twins will not be a problem. They are easy to wash and wipe so you can maintain them for a long time.
These chairs are also better priced, and since you will need two of them, that is a real advantage.
You can use these highchairs as they are or convert them to boosters or toddler seats.
Your babies will be comfortable thanks to the generous cushion of the seat.
The maximum weight supported by these highchairs is 50 pounds, and you can use them until your children get to three years old.
Pros
Convertible to three different chairs.
Easy to clean
Budget-friendly highchairs
Comfortable cushion system
Supports up to 50 pounds.
Cons
These high chairs don't come with complete directions.
The harness might be challenging to lock.
Check Price on Amazon

5. Graco Slim Spaces High Chair
Graco also offers this very efficient model of highchairs for twins that you and your babies will love to use.
There are two different colors to choose from, and they are unisex, so you don't have to worry about this aspect. They will go great for both girls and boys.
This highchair has small dimensions, which makes it perfect for small houses. Folded, the width of this highchair is only 8.5 inches.
You don't have to worry about assembling these highchairs. They already come ready to use, and all you have to do is unfold them.
The seat pad can be washed in the washing machine, and the tray goes in the dishwasher. So, maintaining these highchairs shouldn't be a problem either.
You can choose between six different heights as well as three recline levels.
These high chairs are great for babies up to three years old and a maximum weight of 40 pounds.
Pros
Perfect for small rooms.
Easy to clean in the dishwasher and washing machine.
Foldable highchairs
Maximum weight of 40 pounds.
Recommended for babies up to 3 years old.
Cons
It might be challenging to take off the seat cover.
It folds more difficult than other highchairs.
Check Price on Amazon

6. Ingenuity SmartServe 4-in-1 High Chair
The last but definitely not the least model of highchair for twins you can invest in is this Ingenuity one.
The fact that you can choose between two different grey patterns make this highchair model ideal for twins regardless of their sex.
You can convert this type of highchair in four different positions. This allows your children to use the chairs at different growing stages. It goes as a highchair, a booster, a toddler chair as well as two different chairs to use for two children at once.
When you store these chairs, all you have to do is fold them up, and they will not take too much space.
The harness locking system keeps your babies in place and doesn't expose them to any risks.
Pros
Two different shades of grey to choose from.
Convertible highchairs for twins.
Easy to clean
Foldable for easy storage.
Secure harness
Cons
The tray might not be stable enough.
It doesn't come with instructions.
Check Price on Amazon

Best Highchairs For Twins
Our Pick
KidsEmbrace is one of the best types of highchairs for twins that you can count on for many reasons.
It comes in a girl version and a boy version, which you will not find easily at other highchairs.
The material of this highchair is breathable and, therefore, more comfortable for your little ones.
Another great feature is that these highchairs come with storage baskets underneath them. You can use these to store your baby supplies and have them handy at all times.
The metal frame of these highchairs makes them very reliable and durable for an extended period too.
Safety will not be a concern either as you use these highchairs for your babies. The harness is very secure, and your babies will stay in place for the entire time!
Even if choosing the best highchairs for twins might seem difficult, this guide should help you through this process. Pay attention to both comfort and functionality as you invest in such chairs.
Your babies should be safe and enjoy their time in their highchairs. By investing in any of the products in this guide, you know that you can't fail!

Key References
"Are highchairs really safe?" – Orlando Health. Accessed April 07, 2020. Link.
"7 Tips for Keeping Your Child Safe in a High Chair – Health Essentials from Cleveland Clinic". Accessed April 07, 2020. Link.