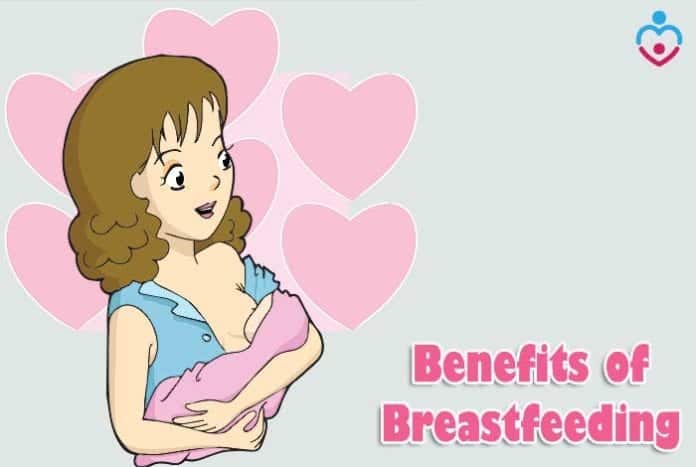 Breastfeeding is only essential for your baby's health through the quality of the milk that they drink. Your breast milk should contain all the nutrients your child needs to have a good start in life!
Advantages of Breastfeeding List
1
Breast milk helps to build your baby's immunity system
You probably heard that breast milk is extremely rich in nutrients that your baby needs. It contains healthy fats, protein, and essential minerals such as calcium, phosphorus, sodium, and potassium. These nutrients help your baby develop a healthy immune system that will protect them against various diseases throughout their life.

2
Breastfed babies have a lower risk of SIDS
Sudden Infant Death Syndrome (SIDS) remains a mystery for doctors. This syndrome happens in the the first year of life, and it is a nightmare of any parent. But breastfeeding can actually reduce the risks of SIDS according to several studies.

3
Breast milk reduces the risks of obesity in children
Thanks to the healthy nutrients in breast milk, your child will not get any extra fat that they don't need when you are breastfeeding them. This will speed up their metabolism for life and reduce their risk of obesity.

4
Breastfeeding can suppress different pain and discomfort for babies
Your child is less likely to suffer from specific aches and discomfort thanks to the endorphins in the breast milk. Endorphins are hormones that have a potent analgesic effect. These hormones are transferred from the mother to the baby during breastfeeding.

5
Breast milk helps your baby grow faster
The first 6 months of your baby's life are a crucial phase in their growing process. They will double their birth weight and develop a lot of physical functions and abilities. Breast milk will support all these changes and help your baby stay right on track with those expected milestones.

6
Gives your baby emotional benefits
During breastfeeding, your baby will develop a unique and strong emotional bond with you. They will feel loved and protected, and the benefits of these feelings will last for the long term. The breastfed babies cry less in general and have fewer occurrences of childhood illnesses.

7
Breast milk can be a lifesaver for premature babies
Premature babies need special care because their bodies are not fully developed to face the world outside of their mother's womb. For these babies, breast milk can be even more critical than for the rest of them. Preemies are incredibly prone to infections, and being breastfed can boost their immune system fast so they can adjust to the world a lot easier.

8
Breastfed babies sleep better
Both formula-fed babies and breastfed babies sleep the same amount of time. However, studies show that breastfed babies sleep better and a lot more relaxed than formula-fed ones. This happens due to the endorphins present in breast milk that allow babies to be more peaceful.

9
Breast milk supports brain development
A great benefit of breast milk is the fact that it helps your baby's brain to develop in a faster way. Between zero and six months, babies grow their brain significantly. Breast milk can improve brain development with 30 percent according to certain studies. This cognitive improvement happens because the nutrients in this milk feed the white matter of the brain a lot better than any formula milk.

10
Breast milk reduces chronic diseases later in life
Due to the nutrients in breast milk that empower your baby's immune system, babies are less likely to suffer from cancer or other chronic diseases later in life. Babies that are breastfed will also be less prone to catch colds or other viral infections, as well. Breastfeeding has a protective shield against the risk of type 2 diabetes.

Suggested Reading
: Now we have reviewed all the top 10 advantages of breastfeeding, check out these pages too!
Key References