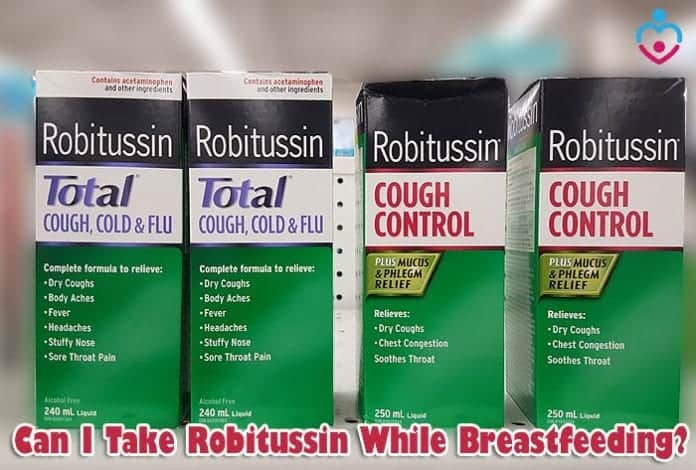 Getting a cold, the flu, or an infection during your breastfeeding months can be a concern for any mother. But there might not be a good reason to get alarmed yet. Usually, mothers shouldn't stop breastfeeding just because they have a cold.
One of the treatments considered very efficient in treating colds and flu is Robitussin. There are several versions of this drug on the market.
However, you need to pay extra attention when you take it to treat your cold symptoms. Not all of these options will be safe if you are a nursing mother.
Can I take Robitussin while breastfeeding?
Robitussin that contains only Guaifenesinas an active ingredient, is safe for nursing mothers. The Robitussin that contains Dextromethorphan should be avoided if you are breastfeeding.
Robitussin is also a common treatment administrated to reduce cold symptoms. You can find it with one or two active ingredients.
These ingredients are dextromethorphan and guaifenesin.
These active ingredients are efficient in treating symptoms such as excessive cough, fever, and mucus.
But because you can find more types of Robitussin on the market, you need to pay attention to how they interact with your breastfeeding.

Guaifenesin is an ingredient that helps you expectorate.
You will eliminate more mucus through your cough if you ingest this. By doing so, you will clear your lungs faster and feel better soon as well.
The versions of Rubitussin that contain only this active ingredient will not give you any side effects, and they are safe for your baby as well.
On the other hand, the dextromethorphan ingredient is influencing how often you cough. They work great together, and the best version of Robitussin will have both of these ingredients.

Dextromethorphan is known for getting into the breastmilk, which is something you need to pay attention to.
Unlike Dayquil, which has this ingredient as well, Robitussin will have a higher concentration of it.
If you get Robitussin with this active ingredient, you should know that your baby will most likely ingest it as well.
Dextromethorphan can give you and your baby nausea, gas, restlessness, and dizziness.
Also, make sure the type of Robitussin you administrate doesn't contain any alcohol!

If you consider taking Robitussin to treat your cold while nursing, it is advised to consult your doctor first.
If this type of treatment is appropriate for you, they will prescribe you the right version of it.
If you decide to take it by yourself, ask the pharmacist about the active ingredient in it. Also, read the instructions to be aware of the maximum dose allowed for nursing mothers and potential side effects that might occur.

Key References
"Robitussin and Pregnancy". Accessed January 15, 2020. Link.
"Guaifenesin Uses, Dosage & Side Effects – Drugs.com". Accessed January 15, 2020. Link.
"Dextromethorphan Uses, Dosage, Side Effects – Drugs.com". Accessed January 15, 2020. Link.