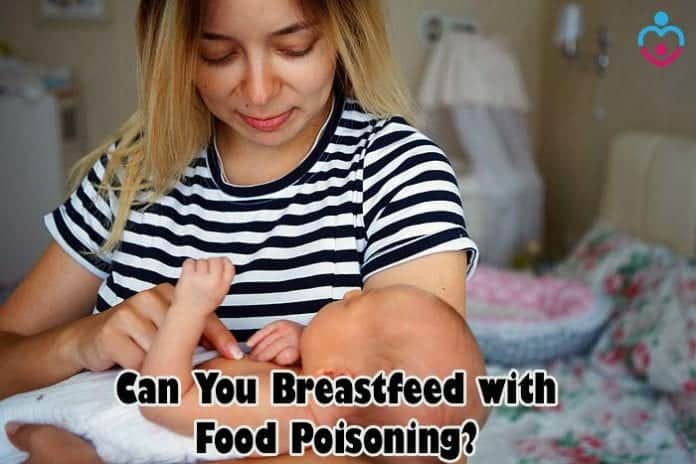 When you are breastfeeding, everything you eat is essential. It is important to eat a balanced diet and drink plenty of water. However, not only what you are eating is vital during breastfeeding, but also the quality of the food.
One common concern of mothers that are nursing is food poisoning. This type of poisoning could happen any time you eat something that is either expired or made of ingredients with questionable quality.
If you eat food that is contaminated with bacteria, parasites, or different viruses, you will most likely get sick. But can you still breastfeed if you have food poisoning? When not to breastfeed if you have food poisoning? Explore the answers below.
Can You Breastfeed with Food Poisoning?
If you have food poisoning, you should know that breastfeeding is still safe. The food poisoning will not pass through the breastmilk and affect your little one. The only thing you need to pay attention to is the medicine you take for your food poisoning. Talk to your doctor to see what treatment is compatible with your nursing condition.

Symptoms of Food Poisoning
If you get food poisoning, you should be able to identify it relatively easily. Here are the food poisoning symptoms:
Such a condition gives symptoms like nausea, vomiting, diarrhea, cramps or abdominal pain, and even fever.
You are more likely to get food poisoning when you are traveling or eating from sources that are not correctly verified and certified.
Water can be a common cause of food poisoning, too, especially untreated tap or well water.

Can Food Poisoning Pass Through Breast Milk?
No. Very few health conditions prevent a mother from nursing, and food poisoning is not one of them. The bacteria in the food will affect your digestive system, but it will not pass through your breastmilk. This is the reason why you shouldn't stop nursing.

Avoid Breastfeeding if it is Septicemia
The only exception that should stop you from nursing your baby if you got food poisoning is Septicemia.

In severe cases, eating contaminated food can generate septicemia. This critical condition happened when the bacteria in the food passed into your bloodstream.
Also, if you developed septicemia, your doctor will most likely keep you in the hospital until this condition clears out with proper treatment.
So, breastfeeding will not be an option in such a situation.
If your doctor decides that you can go back to nursing before the septicemia clears out, it will be thanks to the way your body responds to antibiotics.
Some different viruses and bacteria can cause septicemia, and they respond differently to the treatment as well. This is the reason why your doctor will guide you according to the type of bacteria you are dealing with.

To prevent food poisoning, you should wash your hands before every meal, as well as several times a day.
Cooking your food correctly will also eliminate bacteria and viruses. The best temperature for cooked meat, for instance, should be at 160 degrees F.
Only get your food from trusted sources and read the tag in detail to see how a specific product was made.
These aspects will reduce your chances of getting food poisoning, and you will still enjoy your favorite dishes!

The general rule says that food poisoning, just as any cold or flu, will not pass through the breastmilk. However, the antibodies will get to the breastmilk, and they will help your baby develop their immune system.
Thanks to these antibodies, your little one will not contact such diseases from you, and if they do get them in the future, they will be ready to overcome them.

Key References
"Symptoms & Causes of Food Poisoning | NIDDK". Accessed May 26, 2020. Link.