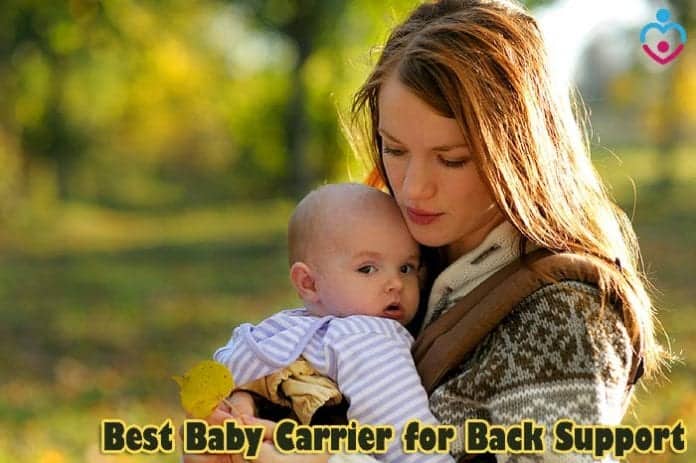 Are you struggling to safely wear your child without aggravating your underlying back and joint issues? The best carrier for back support allows you to support your little one on different parts of your body, so there's minimal stress on the back. Also, they help to evenly distribute your child's weight to reduce strain.
Sale
Best Baby Carrier For Back Support
Our Pick
Our top pick for the best baby carrier for back support is SUNVENO Ergonomic Baby Carrier. The carrier has an X-shaped anti-shedding strap design to offer extra security and features an anti-slip seat design for additional friction when your baby is seated. It will keep your little one in a natural squat spreading posture without sacrificing your comfort.
We ♥ honesty! Nursing Moms earns a commission through the following hand-picked links at no extra cost to you.
Best Baby Carriers – Comparison Table
What is the Baby Carrier or Baby Sling?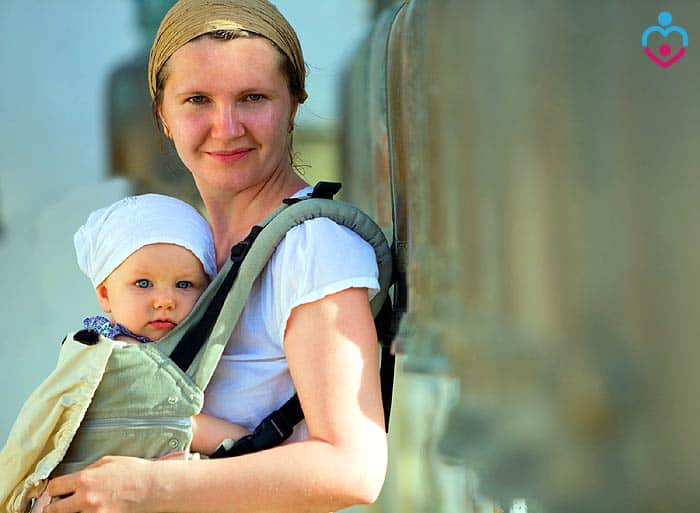 Baby carriers are soft padded carriers usually worn on the front. Some options are adjustable so parents can wear their babies on their back or hip. On the other hand, a baby sling is a strip of fabric or pouch, typically secured over the shoulder and worn across the front in different positions.

Are Baby Carriers Bad for the Baby?
No. Baby carriers make moms' lives much easier when walking, traveling, hiking, and more. Additionally, baby carriers help parents' bond with their children through sound, scent, and touch. When baby-wearing, your baby can feel your warmth and heartbeat, while also enjoying every other thing the world has to offer. Other benefits of using baby carriers include enhanced mental development, vertical tummy time, physical and emotional stimulation, and much more.

Can a 2-Month-Old Use a Carrier?
You can start using a baby carrier as soon as you give birth to your baby.
Most options are designed to hold babies when they are a newborn to about 2 to 3 years old.
However, we recommend you carry babies younger than 6 months in the inward-facing position with proper neck, head, bottom, and hip support.

What to Look for in the Best Baby Carrier?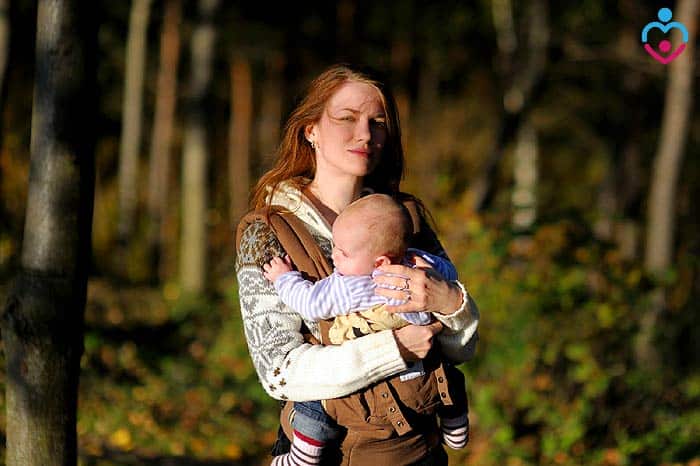 Just like any other baby product, our priority lies in the safety and comfort it will offer our little one. But why settle on your baby's comfort alone, when there are products made with parents and their babies in mind. Here are some checklists you can use as a guide to ensure the baby carrier offers you comfort.
Breathable Material – you might need to use the carrier for longer hours, so ensure you purchase a baby carrier with a breathable material. Mesh material and cotton fabric are commonly used in many baby carriers to keep air flowing.
Safe Materials – choose a carrier made from skin-friendly materials so your little one can sit in comfort. The last thing you want to see on your child's delicate skin is rash or red patches.
Wide Lumbar Support – baby carriers with broad lumbar support will help ease back pain and lessen the pressure on your back.
Wide Padded Straps – this is important to ensure your back is covered comfortably. Also, we recommend you go for a carrier that can be crisscrossed as it can relieve back pain by distributing the weight evenly.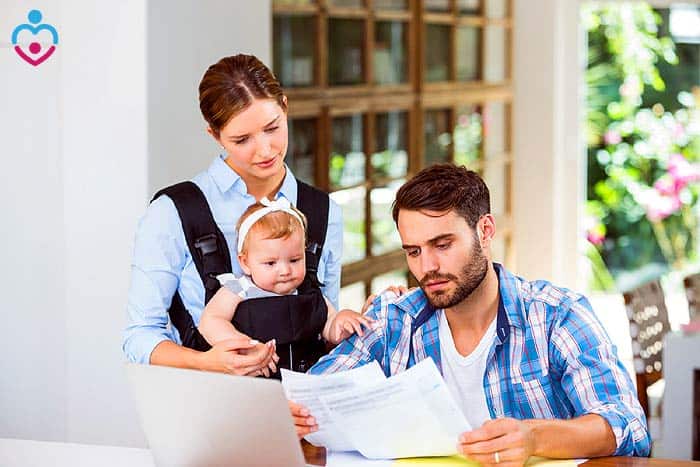 Another important thing you should consider when shopping for the best baby carrier for back support is your convenience. Although using a stroller is helpful when you are out and about with your baby, it may not be the best option for roaming around crowded and busy streets. You can look for extra features that can help you as a working or full-time mom to do your work or chores without having to sacrifice spending quality time with your child.
Bib and Hood – some baby carriers have a bib to help prevent food stains on you and your baby's clothes and a removable or attached hood to keep your little one protected from the elements.
Carrying Options – the famous saying "the more, the merrier" also applies to carriers. Choose baby carriers that offer many carrying options so your waist or back can rest some times and change or adjust the position to satisfy the comfort of your child.
Foldable Carriers – if you are an adventurous mom who is always on the move, choose a foldable carrier. Foldable baby carriers make traveling with your kids easy, as you can just put it inside a storage bag.
Storage Pockets – this is another convenient feature for busy parents who are always on-the-go. It can be used to store your essentials like phone, keys, and wallet so you can go out without carrying a separate bag.

Top 5 Best Baby Carrier for Back Support
Here are the top 5 best baby carriers for back support on the market today:
1. NeoTech Care Baby Carrier
The NeoTech Baby Carrier is a versatile option with a seat at the bottom.
The hip seat allows parents to use the carrier without the straps – this means the weight is spread more on the seat and your hips than your shoulder.
It is a thicker carrier that is of the classic style, so it feels very secure and chunky.
The materials (100 percent cotton), though, are breathable and soft, so the comfort of your baby is not compromised.
This carrier also comes with a handy pocket on the front, so you can put some extras such as wipes or nappies.
The buckles are safe and chunky, so you can be sure your baby is secure in the harness.
Also, the seat has a Velcro and zipper for double safety.
Although the NeoTech Baby Carrier may not be the best-looking, it's excellent value for money for those searching for a complete solution.
Pros
Made of durable, resistant materials.
Removable head support
The hip seat is removable for easy washing.
Comfortable and breathable
Cons
Not enough padding on the back straps.
Check Price on Amazon

2. SUNVENO Ergonomic Baby Carrier
Not only is this super-soft, forward-facing carrier comfortable, but it also offers your baby with lots of distraction and visual stimulation.
With its unique, anti-slip bucket seat, your baby will stay ergonomically seated in all carrying positions.
When folded, the extendable back panel offers head support for younger babies and, when unfolded, provides back support for older babies.
The SUNVENO Ergonomic Baby Carrier has secure back straps that cross, so your baby's weight is evenly distributed across the upper back and shoulders.
Also, the carrier comes with extra-padded and plush shoulder straps for ease of use and protection.
The honeycomb venting design of the carrier helps to avoid excessive sweating of the baby.
It features the X-shaped shoulder strap, which makes it easier to disperse gravity as it reduces the weight on the shoulders.
The SUNVENO Ergonomic Baby Carrier comes with 4 multipurpose pockets on the front and side to safely stow your personal items.
Pros
Breathable and lightweight Material.
Enough room for your belongings.
Waterproof and durable
Machine washable
Cons
Bit expensive for some parents.
Check Price on Amazon

3. BABLE Baby Carrier with Hip Seat
With this breathable and soft baby carrier, you'll always be assured of your baby's safety.
The BABLE Baby Carrier with Hip Seat is designed from a breathable material, making it perfect for all moms.
The wide waistbelt and extra-padded shoulder straps alleviate pressure on your shoulders and back.
It also disperses the baby's weight evenly between the shoulders and hips, helping to reduce the load on parents.
The padded hip seat relieves wearer's abdominal pressure and makes your little one sit comfortably.
Additionally, the medical silicone on the hip seat surface offers a static friction force to help your baby stable on the seat.
The included side pockets are great for keeping your phone, baby bottle, and keys.
The BABLE Baby Carrier with Hip Seat is suitable for all-weather as it comes with the front panel to keep your baby warm.
Other extra accessories include a nursing cover for natural breastfeeding, cotton bibs for vomit and drool, as well as babyhood for wind and sun protection.
Pros
Multiple carrying options
Easily adjustable buckles
Cool, breathable Material
Soft and safe hip seat.
Cons
Bulky to carry everywhere.
Check Price on Amazon

4. BabyPro 360 Baby Carrier with Hip Seat
The BabyPro 360 Baby Carrier has nine ergonomic carry positions for both infants and toddlers.
The unique design of this carrier allows parents to use it as a wrap sling or hip seat.
The 3D breathable mesh and 100% cotton is designed to keep you and your baby cool.
The ergonomic padded hip seat is lightweight yet sturdy and will make your baby sit comfortably.
The shoulder straps, long waist belt, and double security buckles offer a wider range of fit for parents of all sizes.
It features multiple force points and widened shoulder straps to reduce the load on the wearer and disperse the baby's weight effectively.
With its padded lumbar support, the BabyPro 360 Baby Carrier offers exceptional lower back support to parents.
Pros
Reinforced and adjustable shoulder straps.
Ergonomic padded hip seat.
9 carry positions
Check Price on Amazon

5. ABBERDARE 3-in-1 Baby Carrier with Back Support
The ABBERDARE 3-in-1 Baby Carrier with Back Support is a comfortable carrier that allows you to carry your baby facing outwards or forwards.
This carrier offers better comfort for growing babies while also reducing the strain on the parent's back.
It helps cradle their body, sides, and chest more carefully with even distribution of weight.
Also, this baby carrier allows you to adjust the waist and shoulder straps to help you find the perfect support to reduce stress on the back when you are carrying your baby for more extended periods.
The ABBERDARE 3-in-1 Baby Carrier is designed to be worn over your clothes without causing parents to overheat when you are shopping or outdoors.
Pros
Breathable, sweat-resistant fabric
Comfortable and easy to adjust.
Upright, supportive design
Check Price on Amazon

Sale
Best Baby Carrier For Back Support
Our Pick
Our top recommendation for the best baby carrier for back support is SUNVENO Ergonomic Baby Carrier. This carrier features an X-shaped anti-shedding strap design for added security and has an anti-slip seat design for better friction when your baby is seated.
Our review of the best baby carrier for back support includes a wide variety of products, each with unique features. Hopefully, the review will help you choose the most suitable option for you and your baby.

Key References
"Protecting Infants and Toddlers from Positional Asphyxia: Car Seats and Sling Carriers" – Oklahoma Cooperative Extension Service. Accessed February 29, 2020. Link.