Pregnancy and giving birth are putting your body through significant changes. Besides the fact that you should take care of your body during pregnancy, it is also essential to take care of it after you had your baby.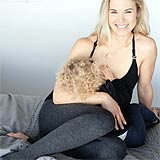 Best Postpartum Legging
Our Pick
If we had to choose one pair of postpartum leggings, the Louisa model, which is also number one on our list, would be that. These leggings are high waist, your belly will be well supported, and you can lose the pregnancy belly faster!
We ♥ honesty! Nursing Moms earns a commission through the following hand-picked links at no extra cost to you.
You should invest in clothes that will accommodate the new needs of your body. This is why postpartum leggings are so popular among new moms.
If you never purchased postpartum leggings, this guide will help you understand their benefits but also choose the right pair for you. Let's dive into the journey of finding the best leggings to wear as a new mother!




What to look for?
Before purchasing the pair of belly compression leggings, you want, there are certain things you should consider. The following criteria will help you make sure that you take the right decision before pulling your credit card out!




Best Postpartum Leggings
The following postpartum leggings are of excellent quality. You will be impressed not only by their features but also their overall design.








Frequently Asked Questions



Postpartum leggings can really change your life for the better. Not only that, you will regain your shape faster, but you will also feel more comfortable wearing them.
The list in this detailed guide, as well as the information we included, should help you find the right postpartum leggings for you in no time. So, get your pair and enjoy more relaxing days to come by wearing them!

Key References
"Postpartum Belly: How to Get Rid of It". Accessed May 08, 2020. Link.