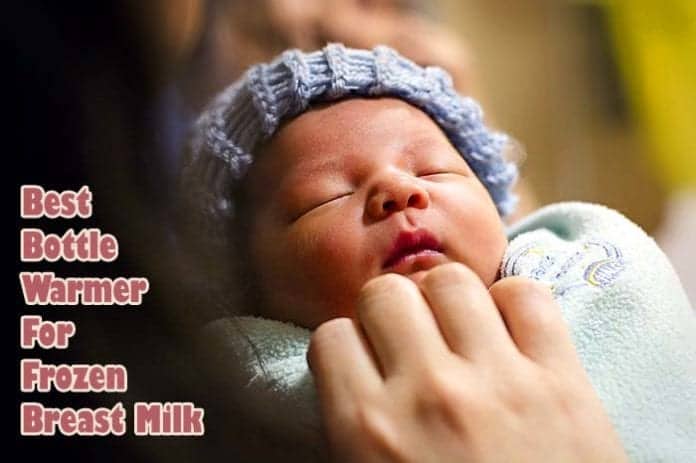 Best Bottle Warmers For Frozen Breast milk: If you are still breastfeeding and you store breast milk in the fridge or freezer, reheating the milk before feeding your baby is ideal. A bottle warmer can save you time and make nighttime feedings easier. This guide will discuss why you need a bottle warmer for breast milk, what to look for, and the best bottle warmer for breast milk.
We ♥ honesty! Nursing Moms earns a commission through the following hand-picked links at no extra cost to you.
Best Bottle Warmers For Breast milk Comparison Table
Works Well with Frozen Milk?
#5
Works Well with Frozen Milk?
Why We Need a Bottle Warmer for Breast Milk?
Well, generally the working or busy moms freeze the breast milk so that babies can be fed while they are away. Typically, without a bottle warmer you would soak the bottle containing the frozen breastmilk in warm or slightly hot water. This can be quite frustrating when you have a crying baby asking for milk. With a bottle warmer the following is possible:
You get an expected waiting time unlike when you warm the conventional way.
It is easier to teach a nanny or grandma to use a bottle warmer rather than the conventional method.
The design of bottle warmer helps to bring breast milk to their optimum temperature safely, ensuring your little ones get all the required nourishment.
They can also help to heat the breast milk evenly and quickly while saving you precious time.

What to Look For in Bottle Warmer?
There are a plethora of bottle warmers on the market, and they are available in a variety of style and brands. Here are things to look for when choosing a bottle warmer.

You should go for a warmer that can heat your breast milk as fast as possible.
The warming time is quite important because when you have a hungry and impatient baby who wants to eat. Most warmers take about three minutes to warm a bottle.
Ideally, a bottle warmer can heat the milk to around 36 to 38 degrees centigrade which is the average body temperature. Some models have adjustable temperature dials that allow you to set the temperature.


You should choose a bottle warmer that can accommodate any shape or size of the bottle, food jar, or magic cup. The warmer should work fine with any bottle no matter if they are straight, narrow-neck, or standard. It may tempt you to go for a cheaper warmer that works only with standard bottles, but you never know when you might need to make a switch to a modern, fancier bottle brand that the bottle warmer may not accommodate.


A standard warmer can heat a bottle of baby milk when you place the bottle in the central vessel of the warmer. Some models of warmers use a steam warming system to heat the milk while others use heating batteries or elements.
Also, there are some sophisticated models with a cooler section that can keep the bottle chilled or extra baskets to steam sterilize the pacifiers. The choice of breast milk depends on the use and needs of a parent.
For instance, if you are a frequent traveler, you would need the best cooler and battery-operated bottle warmer that is portable and lightweight while a frequent user would require a durable and simple warmer.

4. Automatic Shut-Off Feature

This feature is ideal for busy moms who are likely to forget that they left the warmer on.
It is important to note that overheating breast milk can ruin it completely. You should choose a automatic bottle warmer with stop signals and a timer.

You should consider the safety and durability of a bottle warmer before purchasing. The best bottle warmer for breastmilk should have essential safety features like an audible alarm and indicator lights that notify you when it is complete.
Also, it should be durable and sturdy so it can last for an extended period.


Bottle warmers with fewer removable parts are easier to clean than those with too many compartments. You should choose a bottle warmer with a simple interior you can easily wipe clean.
If your warmer uses steam, there is a likelihood of mineral build-up in the compartments. It is essential to check to see if you can easily access the water compartments and if it easy to clean the residues.

Is Bottle Warmer Safe for Frozen Breast Milk?
YES. One of the safest and easiest ways to warm breast milk is with a bottle warmer. This is because it can help to defrost gently or evenly warm breast milk while also preserving the quality of the milk. Bottle warmers use a different amount of water to warm or steam the bottle, so ensure you are using the recommended amount of water for your breast milk.

How Many Times Can You Reheat Breast Milk?

Based on research and studies, you can only reheat breast milk once after partial consumption. Reheating over and over can destroy the nutrients and beneficial bacteria in the breast milk. Also, it is best to use and reheat breast milk within 4 hours as there can be some bacterial contamination from the baby's mouth in the milk.
Note: If you have reheated the breast milk and it remains unused for up to 4 hours, then discard it.

Top 7 Best Bottle Warmers For Frozen Breast Milk
1. Infanso Baby Bottle Warmer Electric Bottle Steam Sterilizer
The first best bottle warmer for frozen breastmilk is from Infanso. This bottle warmer is a 4 in 1 baby bottle warmer with the capability to defrost frozen milk, warm breast milk, and baby formula, heat food, and sterilize your bottles.
It warms quickly and evenly leaving no hot spots.
The Infanso bottle warmer helps to prevent overheating while also preserving the probiotic and nutrients of the breast milk.
They design it to fit most bottle brands.
It is compatible with plastic, glass, and silicone bottles.
They make it with entirely BPA free materials.
This bottle warmer is safe to use as it features an auto power off function and a high-temperature resistant material.
Pros
Easy to clean.
It is a lovely space saving size bottle warmer.
Smart temperature control.
Made with safe materials.
It is versatile.
Cons
No auto shut-off function.

2. Bottle Warmer for Breastmilk Bottle Sterilizer by Easy Routine
Easy Routine produces one of the best bottle warmers in the market for the frozen breastmilk. The easy routine baby bottle warmer is a multifunctional bottle warmer that can warm breast milk, heat formula milk, warm food, defrost frozen milk, and sterilize baby bottle.
It has an LCD display that provides accurate temperature control.
The Easy Routine warmer heats fast but evenly.
The easy routine bottle warmer kills 99.9% of all the germs that come into contact with your everyday baby items using natural steam.
It is safe to use as they make it with BPA free materials.
It automatically turns off if it evaporates the water inside to protect the breast milk from drying and overheating.
This portable bottle warmer has a delay start function that allows you to set a time when you activate a particular function.
This bottle warmer is suitable for brands and kinds of baby bottles.
Pros
It is easy to clean and pack.
It is portable and lightweight.
LCD touchscreen.
It is BPA and PVC free.
Cons
It can be expensive for some parents.

3. Baby Bottle Warmer, Steam Sterilizer 6-in-1 by Kidome
The next bottle warmer for breast milk is by Kidome. This bottle warmer is innovative and multifunctional.
The kidome bottle warmer features an intelligent on-screen LED display.
It has a constant temperature technology that helps to keep the milk at an optimum temperature for up to 24 hours.
It is a high-speed bottle warmer that can warm a bottle in 3 minutes.
It has a timer that allows you to start specific functions.
It is convenient to use, and it can serve as a sterilizer.
Pros
Easy to operate and clean.
Intelligent LED display.
Large capacity.
Suitable for most bottles.
Cons
Does not beep when it is done.

4. Baby Bottle Warmer & Steam Sterilizer by YOUTHINK
YOUTHINK baby bottle warmer is the next in our list for the frozen breastmilk.
The YOUTHINK bottle warmer helps to heat breast milk gently in a way it keeps the maximal nutrients.
It has a double bottle design that makes it possible to warm water and milk at the same time.
This bottle warmer is BPA free, and it is ideal for most bottles.
It has an LED display that helps to show the warming temperature.
As soon as it reaches the desired temperature, this warmer automatically shut-off.
This youthink bottle warmer comes with a steaming rack and 4 pack of bottle cleaning brush set.
Pros
Versatile.
Preset LED panel control.
Durable design.
Auto shut off function.
Easy to use.
Cons
It takes longer to get warm.

5. Tommee Tippee Closer to Nature Portable Travel Food and Baby Bottle Warmer
The next bottle warmer in our list is from Tommee Tippee which is portable and battery-operated.
This bottle warmer is an inexpensive and simple but effective bottle warmer.
They make this bottle warmer of stainless and plastic.
They can use it to warm breast milk anytime and anywhere.
They can also use it to store hot water for warming bottles and parents for moms on the go.
This warmer is perfect for trips in the car as it requires no electricity.
They make it of plastic BPA free materials.
This battery-operated baby bottle warmer can fit most bottles.
This best travel bottle warmer for breastmilk has a lid that fastens securely helping to prevent water spills.
Pros
It does not require electricity so you can use it anywhere.
It is portable and convenient to use.
It is easy to clean.
Cons
It doesn't work well with frozen milk.
You need to warm water ahead of time.
Check Price on Amazon

6. Chicco NaturalFit Digital Baby Bottle Warmer
The Chicco NaturalFit Digital Baby bottle warmer helps to preserve your breast milk with its multiple and efficient warming options.
It allows you to defrost the breast milk with your desired settings safely.
This bottle warmer gets warm in minutes, and it has an optional timer delay.
It can be large enough to fit most bottles.
It has sound alerts that notify you when it is ready.
It also has an automatic safety shut-off function.
Pros
Digital countdown display.
Compact size.
Compatible with most bottles.
Auto shut-off function.
Cons
They can be difficult to set up according to some parents.
You need two free hands for it to work.
Check Price on Amazon

7. Tommee Tippee Closer to Nature Electric Infant Food & Baby Bottle Warmer
The last bottle warmer for the breastmilk is also from Tommee Tippee. This bottle warmer heats quickly and evenly to help to preserve the breast milk optimally.
It can fit most baby brand feeding bottles.
It has a temperature control dial you can use to set the desired food temperature.
It can warm bottles of breast milk in 4 minutes.
It is BPA and phthalate-free.
Pros
Fits most bottle sizes.
Easy to use.
The even heating process lessens the likelihood of overheating.
Cons
It is bulky.
No temperature setting, on/off button, or a built-in timer.
Check Price on Amazon

The importance of warm milk for a baby can't be overemphasized as they help to provide a comforting and secure feeling.
Getting up in the midnight to place a cold baby bottle in hot water can be tasking. Investing in a good quality bottle warmer that helps to heat the breast milk gently can make a mom's life simpler.

More Choices

References
"Human Milk Warming Temperatures Using a Simulation of Currently Available Storage and Warming Methods". Accessed December 12, 2018. Link.
"Breast milk storage: Do's and don'ts – Mayo Clinic". Accessed December 12, 2018. Link.