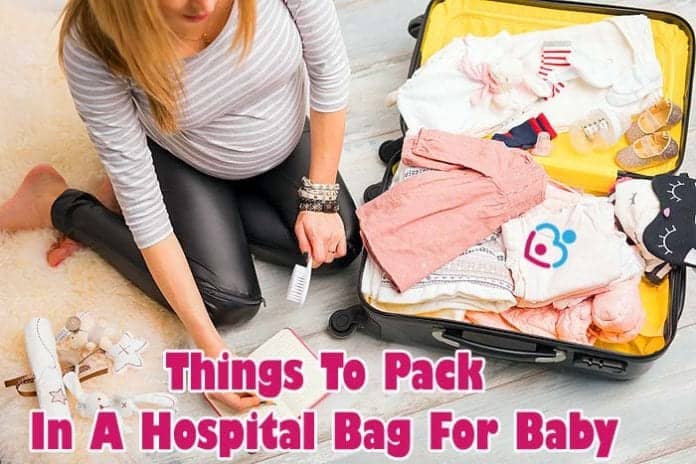 Things To Pack in A Hospital Bag for Baby: Having a baby is one of the most intense and overwhelming moments of a woman's life. You should be prepared to spend several days in the hospital. The amount of time you spend will depend on the way you give birth, your health as well as your baby.
Best Hospital Bag Bundle
Our Pick
Our top pick for the best hospital bag bundle is Kindred Bravely hospital bundle deal. It includes all essential premium-quality items that you will need in your hospital bag. This is the absolute must to make your preparation easier!
We ♥ honesty! Nursing Moms earns a commission through the following hand-picked links at no extra cost to you.
Before we get into what you should actually add to your maternity bag, you should consider preparing it at least two weeks before your expected due date. You never really know the exact date you will have your baby on unless you are planning for a scheduled C-Section. Otherwise, your giving birthday might completely take you by surprise.
Hospital Bag Checklist For Mom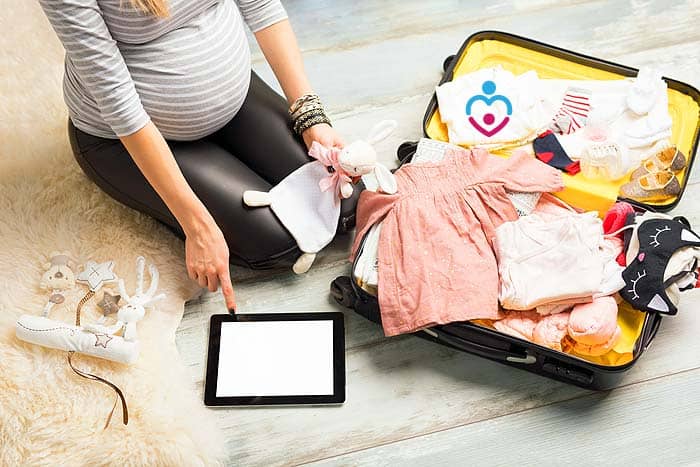 Wondering what to pack in hospital bag for mom? When you prepare your hospital bag, there will be items you need to bring for you and the items you need to bring for your baby. So, take into consideration two lists when you gather your "must-haves".
The items for you should include basic things you need to stay clean and comfortable during your hospital stay. Before you put together your bag, you should do a little research and see what the hospital has to offer you. Depending on the hospital you are planning to give birth at, you might receive certain essential items along with the giving birth package.
Here is a list of items you might need as you are spending your first maternity days:
Socks and slippers: You will need socks and slippers to walk around the room and be comfortable doing so. Unless your hospital supplies these items, make sure to add them to your bag.
Breastfeeding pajamas or nightgowns: Once you have your baby, you will start breastfeeding them hours after they are born. This is a must unless you choose to bottle feed your baby, due to specific conditions. So, bringing on breastfeeding-friendly pajamas is a critical aspect.
Several nursing bras: The reason you might want to bring nursing bras is to be able to nurse comfortably even when you are wearing other clothes than your pajama. Nursing bras are also made to accommodate the needs of your breasts during breastfeeding. They keep your breasts under the right type of pressure, and they help you maintain the shape you want.
Several pairs of underwear: Giving birth, regardless of the method you choose, will have side effects. One of them will be that you will need to change your underwear often to maintain proper hygiene. So, bring enough underwear to be able to change at least twice a day and then some more for unexpected situations.
Nursing supplies: The nursing supplies you need to bring depend according to your decision to nurse or not. If you decide to nurse your baby, include in your bag nursing pads, and nipple cream as a must-have. Both will come in handy when you need to care for your breasts and ease the breastfeeding side effects on them.
Entertainment items: Considering that you will spend several days in the hospital, you should bring some books, magazines, and music to keep you entertained. These items will come very handy when you have to spend hours alone.
A pen and a notebook: While this is not one of the musts, it is definitely wise to bring up a pen and a notebook to write down your thoughts. Becoming a mother is an intense experience and the beginning of a beautiful journey. You will have thoughts, and you will want to capture them for future reference.
Paperwork: It is essential to not forget to bring your paperwork, either. You will need your ID card and the hospital paperwork that you have to submit to the hospital. Your birth plan, as well as your health insurance, will be beneficial as well. The hospital will most likely give you a list of papers you need to bring, so follow that carefully.
Cosmetics and self-care items: Don't forget to bring your basic cosmetics either. You will want your shampoo, conditioner, face cream, lip balm, and even some makeup and perfume for those moments when you get visitors.
Suggested Reading:

When To Start Packing Hospital Bag?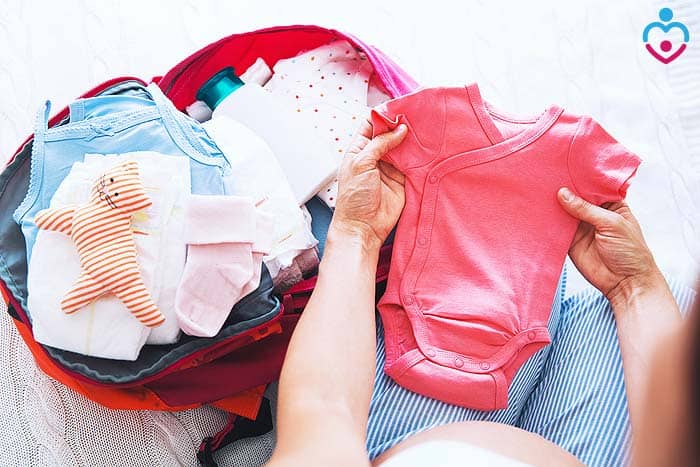 As pregnancy runs for 35 to 38 weeks, you should have the hospital bag ready with items around week 35. You may begin packing for the hospital bag anytime during the pregnancy but make sure that it is ready around week-31 to 35 in case baby comes early.

Hospital Bag Checklist for Baby
Now that you got the list of items you might need, it is time to think of what your baby might need. This is an aspect you can't neglect as you will have to supply everything as they come into the world. The following list of items contains the basics you baby will need, but according to your preferences, you might add to it or cut some of them.
Clothes: You will want to bring different outfits for your baby. Consider the outfits they will wear during their stay in the hospital but also a coming home outfit. The coming home outfit should pretty than the rest, and you will save it for the moment your baby gets home. There will be plenty of pictures, and you want both of you to look pretty as you will cherish these memories for a lifetime.
Baby accessories: Socks, hats, and baby shoes are great items to add to your maternity bag. You want to be ready for everything, and having a hat is a must if you will bring your baby home to a mainly sunny day. Shoes are cute as well, and socks will keep them warm if it gets cold outside.
One or two blankets: The hospital might offer you some blankets options, but it is always recommended to bring your own. You want your baby wrapped in blankets that are cozy and properly washed. So, if you can, definitely add a few of them in your hospital bag.
Diapers and baby wipes: There is no way to get around diapers, so make sure you bring them to the hospital. You will need to get newborn diapers, and two packages instead of one would be a wise decision. Don't forget about the baby wipes, as they will turn out to be very useful as well. When it comes to baby wipes, go for the unscented ones and with no alcohol as your baby's skin will be very sensitive in their first days and weeks of life.
Having a car seat for your infant is also a must. You will most likely bring them home in your car, and you can't hold them in your arms as this is not safe. Purchase a baby car seat and install it in your car before going to the hospital, so you are ready ahead of time.
A baby cream: You should bring a hypoallergenic cream for your baby in case they develop diaper rash or any other skin condition. You might not use it in the hospital. They take care of such reactions as well, but it can turn out to be very wise to bring one in case you don't have that option. Since you will not be aware of your baby's potential allergies, going for a hypoallergenic cream might be the best decision.
Suggested Reading:

Maternity Hospital Bag Checklist
| What to carry | Use |
| --- | --- |
| Onesies | Daily changes in the hospital |
| Going home outfit | Pretty outfit for hospital release |
| Socks | In case it gets cold, bring several pairs |
| Hat | For sunny days |
| Shoes | To keep their little feet warm |
| Blankets | For the hospital bed and wrapping |
| Diapers | Six to eight diapers per day |
| Wet wipes | For baby hygiene |
| Car seat | To bring baby home safe in your car |
| Baby cream | To avoid or treat diaper rashes |

What to Pack in Hospital Bag for C-Section?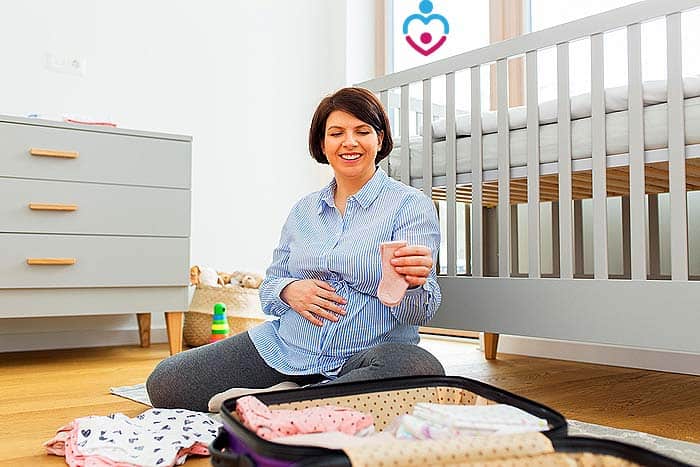 If you are planning to have your baby through a C-Section, your maternity bag will look similar to your natural birth bag. However, similar doesn't mean the same, so there will be some slight differences. Here is what you should add to a C-Section maternity bag!
Extra Pillows: After a C-Section, you will recover slower than after a natural birth. This is happening because you will go through an actual surgery, and you need to heal from it. It can take between a week and two weeks for the surgery to heal and up to six weeks until your pain will go away. Comfort is a significant factor during this time. Having some extra pillows besides the ones that the hospital offers, you will always be a benefit. Especially when you need to find those key body positions that numb the pain.
Ice packs: Ice packs are very efficient when you need to numb the pain of any kind. But your C-Section will not ache always. However, when you get up or move, you will feel a certain level of discomfort, which is why bed rest is necessary after such an intervention. Ice packs can help a lot with those moments of pain.
Loose clothes: After a C-Section, you should protect your abdominal area and not wear anything tight around it. It is wise to stay away from elastic pants and tight clothes in general. Invest in a nightgown that will give you the loose comfort you need but will also be breastfeeding-friendly.
Suggested Reading:

What to Pack in the Hospital Bag for Dad?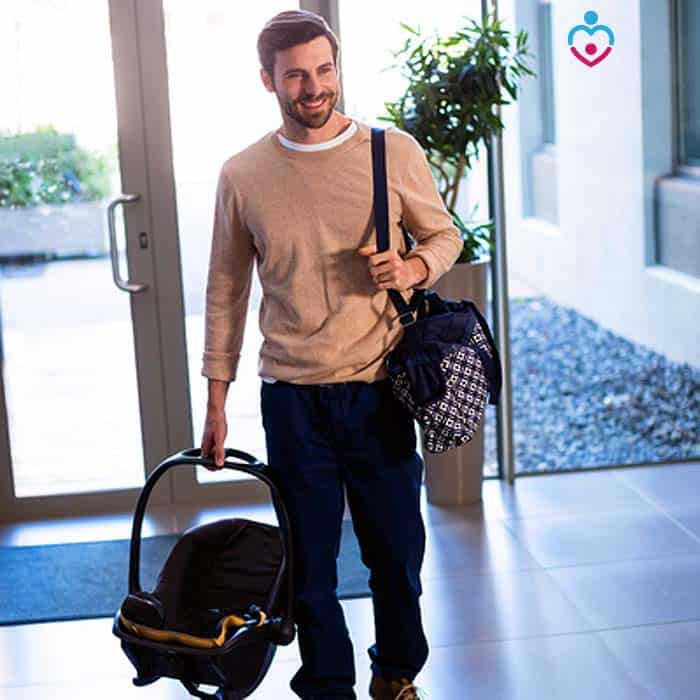 Not only you and your baby will need to get ready for your maternity days. There is a hospital bag for dad that you shall consider as well. Here is a list of useful items that a new father should bring with him for the birth of their child!
Comfortable clothes: Dads also spend long hours at the hospital. They go through the labor with their partners and live the excitement just as intensely. Comfort clothes are essential for these times, so sweatpants and lose t-shirts might be the best option. Bringing different outfits is always a good idea, as well.
Comfortable shoes: As a father to be, you might need to do all the running around to make sure your partner has all she needs. There is nothing more frustrating than wearing shoes that are not as comfortable as you are in a hurry to catch a doctor or spend many hours standing in the hallway.
Pillow and blanket: You might want to sleep at the hospital too, and this will not always be an option. Unless you bring your own pillow and blanket, which might turn out to be a lifesaver.
Self-care products: Don't forget to bring your self-care creams and products, including your shampoo and shower gel. You might end up staying for several days in the hospital with your partner, and these items become a must for such a period.
Change for the vending machine: Most hospitals have vending machines that you can use for getting yourself a snack every time you need to. coffee and snacks, as well as drinks, are essential when you have hours of waiting ahead of you. So, make sure to bring your change to have access to all that.
Camera and charger: As a father to be, you will want to capture the first magical moments of your child's life. So, remember to bring your camera and charger as well as your phone and its charger. You never know when the moment for the perfect picture comes, and you will want to be ready for it.
Presents: Bringing a gift for your spouse is one of those cute things than can add to the beauty of this experience. So, get something you know she likes and surprise her with it during these big days! You will find the right moment to do so, and it will be a time to remember for both of you.

How many baby outfits to bring to the hospital?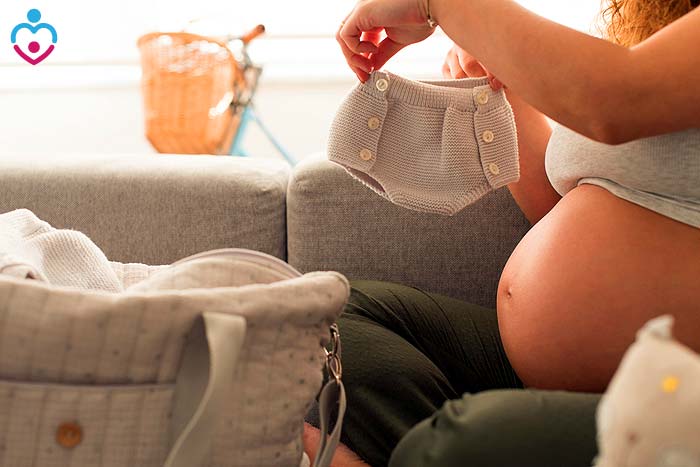 One of the most important questions parents think about is how many outfits they need to bring for their babies. This is a tricky aspect because you want to guess the size of your baby, which is never set in stone. The ultrasound you have before giving birth will give you a slight idea, but, ultimately, you have to be ready for changes. So it is essential to bring outfits of different sizes just to make sure that they will actually fit your baby.
As for the number of outfits, a minimum of two for each day should be enough. You might want to add some extra just in case your baby needs them. Bring two of each size per day and try to invest in clothes that will allow the skin to breathe. Don't forget the special home-coming outfit that your baby will wear as you get released from the hospital.

5 Best Hospital Bags
The following hospital bags are some of the best that you will find on the market. They come in impeccable quality and have beneficial features.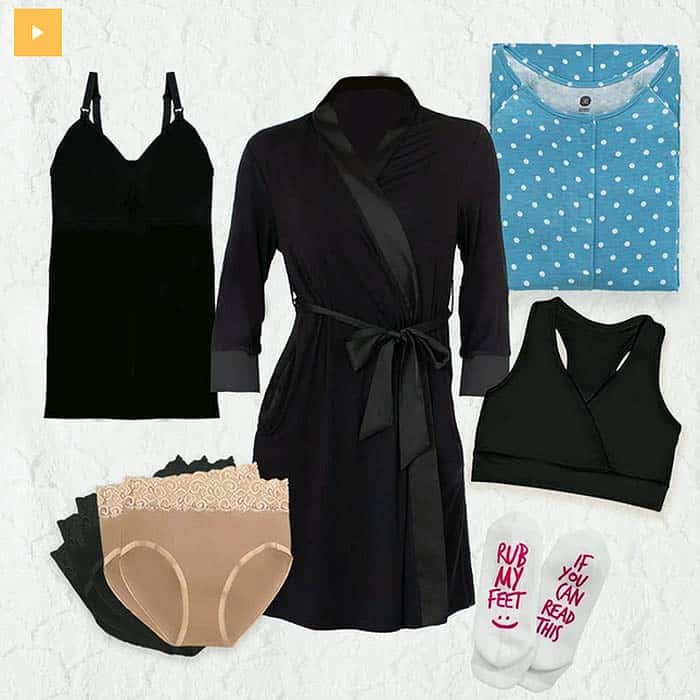 The first product that will be ideal for your maternity days comes from Kindred Bravely, and it is the best bundle deal you will find.
Inside this kit, you will find a labor and delivery gown, a pair of labor and delivery socks as well as a nursing bra, a nursing tank, a rove, and a set of panties.
All the items in this kit come in breathable materials. You will feel comfortable and cozy at all times wearing them.
If you are planning to nurse your baby, the nursing bra is definitely a great addition to your hospital bag!
This kit comes in sizes from Small to XXL, and there are several colors you can choose from. There is also a size guide you can consider just so you make sure you get the right set.
The clothes come in an elastic material so they will accommodate the changes in your body with no problems while offering you the comfort you need at the same time.
You can wash this bundle set in the washing machine in the cold cycle without any problems. As a matter of fact, you will be able to use this set for a long time even after you come home from the hospital.
Pros
Complete bundle kit for your hospital stay.
Breathable materials
Different sizes to choose from.
Different colors available
Includes all you need for your delivery day in terms of clothes.

If you are looking for the ideal hospital bag, this one from Childhome product might be an excellent option for you.
This bag comes in four different colors. You can purchase it in black, grey, navy, or pink. They will all look gorgeous with the rest of your maternity equipment.
You can use this bag as a hospital bag but also as a regular diaper bag, which makes it that much more functional.
The handles of the bag are made of a resistant leather so they can hold all the weight you need to add to this bag.
The inside of the bag is very well split into different compartments. You will find a place for diapers, bottles, wet wipes as well as a big section to add clothes and other goods.
There is also an outer pocket that you can use for your keys or cell phone to access such goods easily.
The trendy design of this bag makes it an excellent addition for all mothers. You will wear it proudly, and you will notice that it goes with most of your outfits as well.
Since the primary material of this bag is nylon, you can count on it for lasting a long time. It is also water-repellent, so your goods will not get damaged even if it rains.
Pros
Resistant leather handles and nylon material.
Useful as both a hospital bag and a diaper bag.
Comes in different colors.
Trendy design
Outer pocket for keys or phone.
Check Price on Amazon

3. Bago 80L Duffle Bag for Women & Men
This Bago bag is actually a travel bag that will be great for both men and women. It is ideal as a hospital bag, so you should definitely consider it as an investment.
There are eight colors you can choose from when you purchase this bag, one more beautiful than the other.
This bag also comes in three different sizes. However, for hospital days, the 80 L capacity should be plenty. But you can choose a 60 L one as well as a 100 L one.
You can count on this bag for lasting you a long time too. It is made of a resistant material that will not tear or break easily. The outside of this bag is waterproof and also odor proof.
Since it is unisex, both you and your partner will be able to use this bag for a long time when you are traveling.
The compartments of this travel bag are very wise placed. You can put everything separately, and there is even a show space should you choose to use it.
Pros
It comes in different sizes.
Eight colors to choose from.
Resistant material
Great compartments for all your goods.
Perfect for traveling too.
Check Price on Amazon

4. BAOSHA HB-14 Canvas Travel Tote
This bag from Baosha will offer you everything you need to carry your goods to the hospital with no hassle.
This bag comes in six different color combinations that you can choose from. They are all stylish and attractive, so you will love to wear them during the most important days of your life.
You will appreciate the fact that this bag is very spacious. With dimensions of 54cm x 33cm x 24cm, you can add everything you need in it without making it bulky.
The material of this bag is a resistant canvas and faux leather that you can rely on for a long time. You can use it after your maternity days as well since it looks relatively casual.
This product comes with a lifetime of warranty, which is not the norm for such bags and makes it that much more reliable.
It works ideally as a gym bag or a travel bag thanks to its generous capacity.
Pros
Multipurpose bag
Comes in different colors.
Generous size
Lifetime warranty
Resistant material
Check Price on Amazon

5. Weekender Overnight Duffel Bag
The last hospital bag that we want to introduce to you comes from Bluboon. There are many things you will love about this bag from its high-quality to its useful features.
There are 12 different colors to choose from when you invest in this bag. This is a big selection compared to other similar products.
This type of bag is very durable, and you can count on it for carrying everything you need during your maternity days. It is made of a resistant canvas, and the zippers are metal so you can count on their resistance as well.
It is ideal for not just hospitals but also travel and gym, so you will find plenty of ways to use this bag even after you had your baby.
The bag also comes with a removable strap so you can wear this bag on the shoulder. However, it also has a handle to use when you carry it around.
What we love most about this bag is the fact that it comes with extra pockets on the side. You can place your keys, cell phone, wet wipes, camera, and other similar items in those pockets, so you access them more comfortable.
Pros
Different colors to decide on.
Resistant canvas material
Extra pockets
Great for traveling, hospital bag or gym bag.
Durable, metal zippers
Check Price on Amazon

Best Hospital Bag Bundle
Our Pick
Our top recommendation for the best hospital bag bundle is Kindred Bravely hospital bundle deal. It features all premium-quality essential items that you will need in your hospital bag. This is the absolute must to make your delivery much easier!
If you have the right hospital bag, you will find it easy to bring the items you need with you during those days.
Keep in mind that you should bring things for you, your baby and your partner. Making individual lists might help you stay on top of this aspect.
By applying the information in this guide, you will avoid the hassle that could come along with preparing your maternity bag!

Key References
"Pack your bag for labour – NHS". Accessed July 11, 2020. Link.
"Successful breastfeeding" – Oxford University Hospitals. Accessed July 11, 2020. Link.
"What to pack in your hospital bag | Hull University Teaching Hospitals NHS Trust". Accessed July 11, 2020. Link.