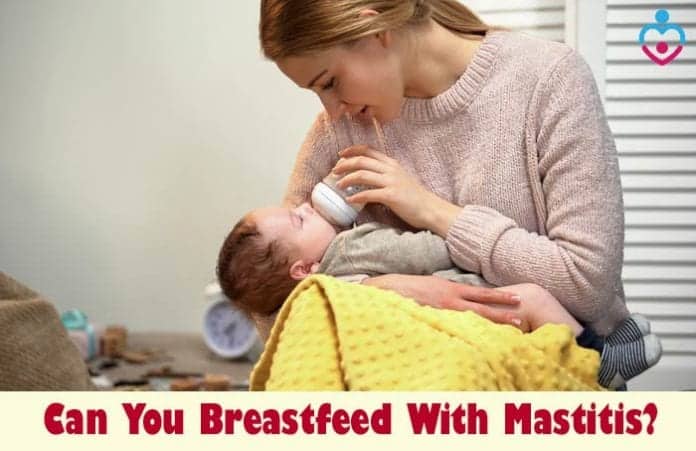 Breastfeeding has its challenges for every new mother. One of the most unpleasant conditions that might come along with breastfeeding is Mastitis.
It is essential to know that Mastitis is an infection that will cause severe breast inflammation. This infection could affect any new mother at any time during the breastfeeding months. However, it tends to be more common during the first 6 months of breastfeeding.
If you contact this infection, you might be wondering if you can keep breastfeeding.
Can you breastfeed with Mastitis?
Mastitis shouldn't stop you from breastfeeding your baby. It is recommended to keep nursing even with this condition because the infection will not pass through your breastmilk and affect the baby.
Breastfeeding, if you have Mastitis, will also help alleviate the inflammation and heal faster. Here are a few essential things about Mastitis that you should know!

Mastitis is a result of bacteria entering the breast.
Usually, this happens to breastfeeding mothers that suffer from cracked breasts or sore nipples.
It can also be caused by poor hygiene during breastfeeding.
If you are not emptying your breasts after breastfeeding, this could also facilitate Mastitis.
To avoid cracked nipples and to make sure your baby is eating right, you should help them latch correctly.

A main symptom of Mastitis is a pain in the breasts.
Your breasts could get red in color and feel warm, depending on the severity of the infection.
Since Mastitis is caused by bacteria, as your body tries to fight it, you might experience aches, chills, and even a fever.
Left untreated, Mastitis can lead to breast lumps or lymph nodes in the area of your armpit.

Curing Mastitis is not complicated. You will have to go to your doctor for a proper diagnosis.
After an examination, your doctor will prescribe you antibiotics.
If you don't get better with the antibiotics treatment, your doctor will most likely take a sample of your breastmilk to identify the bacteria inside your breasts.
You will need to rest and drink plenty of water. If the breast pain becomes hard to handle, use warm or cold packs on the painful area.

Usually, Mastitis affects one breast in particular, but it can extend to both if it is left untreated.
If only one of your breasts is affected, try to start breastfeeding with your healthy breast first.
This strategy will get the breastmilk flow more comfortable, and you might not feel as uncomfortable when you get to breastfeed with the infected breast.

How long does Mastitis last for?
Mastitis could last anywhere from 7 days to 2 weeks.
It depends on the severity of the infection, as well as the time you started the treatment.
This is not the type of infection that goes away without treatment, so address it as soon as you notice the first symptoms.
The faster you get to your doctor and start your treatment, the bigger chances you have to eliminate the infection sooner.

To prevent Mastitis from appearing in the first place, you should wash your breasts before and after breastfeeding.
You should also sterilize your pump correctly, so you avoid contracting bacteria.
Emptying your breasts after every breastfeeding session is also essential.
Use your pump to express any milk left after your baby is done eating.
These are important measures to keep Mastitis away.

Even if Mastitis is a severe infection, you shouldn't be overly concerned if you get it. Proper treatment can take care of it and reduce the risks to a minimum.
It is important to keep breastfeeding your baby as the infection will not harm them.
Women who had Mastitis in the past are more prone to develop it again, so if this is the case, you need to pay extra attention to the condition of your breasts.

Key References
"Mastitis: Symptoms (Fever After Breastfeeding), Treatment & Prevention". Accessed April 25, 2020. Link.
"Mastitis While Breastfeeding | Michigan Medicine". Accessed April 25, 2020. Link.