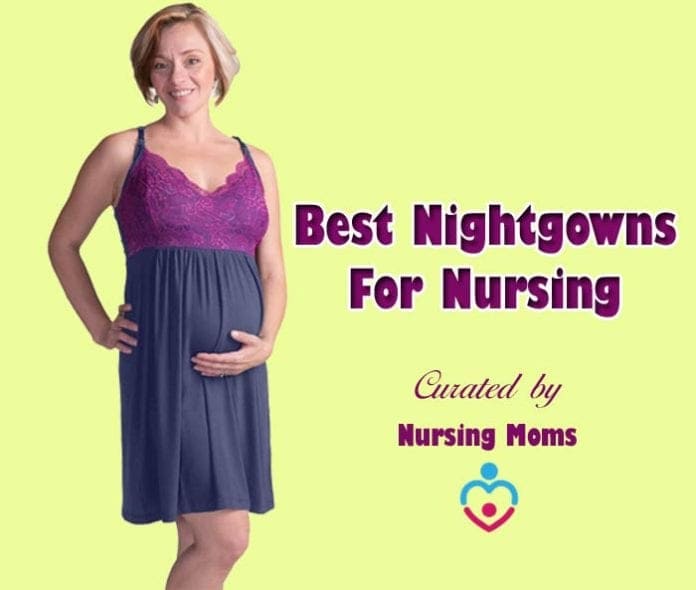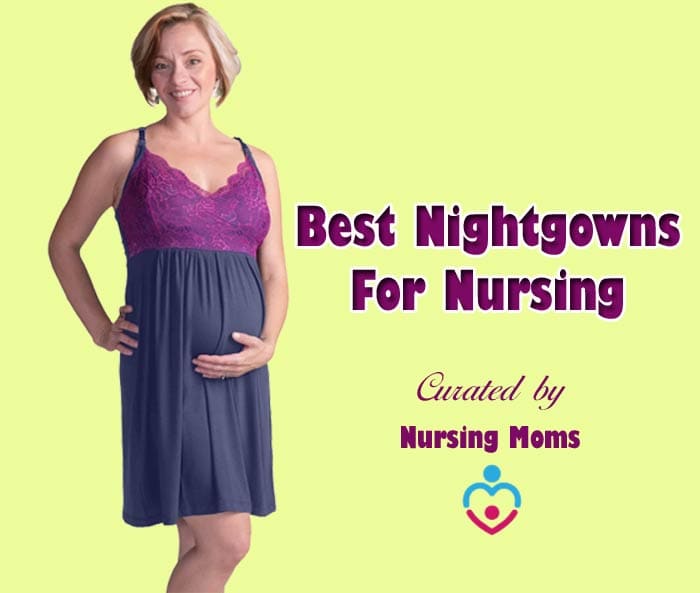 As a nursing mother, you need all the comfort you can get. Waking up during the night to feed your baby comes with its challenges, and you should try to make it easier for you.
Best Nightgown For Nursing
Our Pick
Our top pick for the best nightgown for nursing is the Kindred Bravely's black version of Lucille. It has all the features that you would need in the nightgown for nursing, and it is a pleasure to wear it!
We ♥ honesty! Nursing Moms earns a commission through the following hand-picked links at no extra cost to you.
Chances are that you will nurse your baby during the night for at least 3 months after you were born. Between 4 and 6 months, babies will start to sleep more hours during the night until they eventually don't need those night feedings.
Part of having the comfort you need during those night feedings is wearing a nursing-friendly nightgown. If you never wore such a gown, this guide will tell you everything there is to know about it and how to choose the best one for you!
How do nursing nightgowns help breastfeeding moms?
Nursing nightgowns can make nighttime feedings a lot easier for you. Here are the main reasons you should consider investing in one of these gowns.
They are designed to facilitate access to the breasts for both you and your baby. You can find such gowns with an elastic neckline, for instance, that allows you to pull the material down and feed your baby faster. Others will have certain pockets in the nipple area so you can just latch your baby with less hassle.
These nightgowns are made of comfortable materials that allow your skin to breathe, which is essential as well. They help you sleep in a relaxing way and not worry about any inconvenience regarding your night outfit.
Nightgowns are generally long and large, which gives you significant freedom of movement. Your body will not be restricted as you are wearing one of these pajamas.

What are postpartum nightgowns?
Postpartum nightgowns are pajamas that accommodate nighttime feedings a lot better than other outfits.
They are gowns with an opening in the front that will facilitate access to your breasts. This opening will vary according to the design of the gown.
However, the main advantage of these pajama dresses is that you can latch your baby to your breast and nurse them faster and more comfortable.

Different types of nursing nightgowns
When it comes to nightgowns, you will notice that there are several options to choose from on the market.
Padded nightgowns: The padded nightgowns for nursing mothers tend to be more comfortable in the breasts area than other gowns. These gowns usually have a clip down system that allows you to feed your baby without exposing your breast as you can just open the cup where the nipple is. Because these gowns are padded in the breasts area, they will keep your breasts in shape as well.
Elastic nursing nightgowns: These nightgowns are made of a stretchy material that will easily take the shape of your body. They flatter your curves in a great way and give you the comfort you need as you are wearing them. A great aspect of elastic gowns is that they don't have seams, so you will not feel any discomfort as you are sleeping. As for the breastfeeding system, these dresses tend to have a criss-cross design so you can easily slide the breast out of the dress to feed your little one.
Maternity and nursing nightgowns: Some nightgowns that are great for nursing will also have an appropriate design to be suitable as maternity gowns. These gowns are not see-through, and they are cute enough to wear them in front of guests as well.

When you are shopping for the perfect nightgown for you, it is essential to know what to look for. Each model will come with its advantages and disadvantages. Still, as long as the gown works for you, it will be a worthy investment!
Here are some important factors to consider before purchasing a nightgown!
The material of the gown: You want a nightgown that is made of high-quality material. Your skin should breathe with no problem as you are wearing your gown. Going for an elastic material will give you more movement freedom, and it will also have less or no seams.
Comfort: The comfort of your nightgown is also essential. With so many models available on the market, it might seem challenging to find just the one that will work for you. But if you choose a loose design with a soft material, you should be on the right path. Think of such a gown as the ideal pajama.
Design and functionality: If you are looking for a nursing nightgown, you have to make sure that you can easily breastfeed as you are wearing it. There are nightgowns with different designs, and it is essential to choose one that offers easy access to your nipples. The criss-cross design, as well as the clip down cups, seem to be the most popular and functional styles.
Maintenance: You will most likely wear this nightgown every night and sometimes during the day as well. Maintenance becomes an important factor in this case. Choose a gown that you can easily wash in the washing machine without damaging it. You should find the maintenance instructions in the description of the nightgown.
Note: As a useful tip, you might want to consider purchasing two of them so that you can have a back-up.

Best Nightgown for Nursing
The following nightgowns are some of the best that you will find on the market. They come at a high-quality and a wide range of prices so you can choose just the one that will work best for you!
1
Lucille Maternity & Nursing Nightgown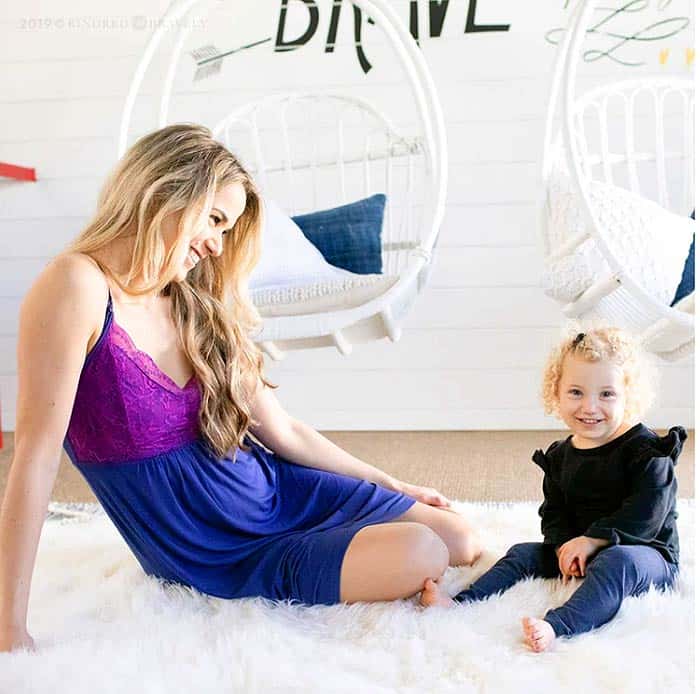 This Lucille nightgown will turn out to be very useful as both a maternity gown and a nursing gown.
You can choose between 5 colors when you purchase this gown. The design is beautiful as well so you can wear it in the hospital to and for the first pictures with your little one.
This nightgown is made of a combination of 95% modal and 5% spandex. It is comfortable and elastic enough to allow your body to move freely.
You can wash it in the washing machine as long as you use the gentle cycle. You can iron it too as long as you don't use a lot of heat.
The empire waist can accommodate both your baby bump as well as your postpartum belly so you can wear this gown before and after giving birth.
It has clip down types of cups so you can latch your baby fast during night feedings. Also, these cups will offer you the support you need to maintain your breasts in healthy condition.
You can find this gown in sizes from XS all the way to XXXL, so you will have no problem identifying just the gown you need!
Pros
Clip down cups for comfortable nursing.
Five colors to choose from.
Both maternity and nursing gown.
It comes in a wide range of sizes.
Easy to wash in the washing machine.
Check Price

2
Motherhood Maternity Women's Maternity Lace Trim Nursing Nightgown
This Motherhood gown for both maternity hospital days and nursing will be very comfortable as well!
You can choose between either different colors so you can count on finding just the dress you need. There are also S to XXXL and a size chart to identify just what size you need.
The material of this dress is 94% rayon and 4% spandex. It is comfortable and elastic, so you will love wearing it.
You will find the pull on closure design very efficient when you put this gown on, take it off as well as when you need to feed your little one.
You can wear this gown during your pregnancy as well as after giving birth, and you will feel very comfortable in it.
The knee-length makes it easy to adjust to different weather conditions as well as circumstances. You can wear this gown when you receive guests in the hospital as well as during the night.
Pros
Comfortable material
Perfect gown for both pregnancy and nursing.
Different colors to choose from.
Sizes from S to XXXL.
Pull-on closure

3
iloveSIA 3PCS Women's Maternity Breastfeeding Dress Nursing Nightgown
IloveSIA offers you a multifunctional nighttime nursing gown that you can use on various occasions!
This is a set of 3 gowns, which makes your purchase worth it that much more. You will receive dresses in different colors such as blue, black, and a coffee shade.
This is a padded nursing dress with no seams so you can have the comfort you need. The built-in bra will support your breasts as well.
The drop-down clips make for easy access to your breasts so you can nurse your baby with no hassle even during the night.
You can remove the foam insert if you want and adjust this dress to your needs.
This design will suit you well not only as a nursing dress but also as a hospital dress. You can wear this padded nursing nightgown many times during your pregnancy and after you had your baby.
Pros
Simple design suitable for both pregnancy and nursing.
Set of three gowns.
Three shades to choose from.
Different sizes
Adjustable built-in bra

4
Baby Be Mine 2 in 1 Maternity Nursing Nightgown Nightdress
Another beautiful nightgown that will be ideal for nursing and pregnant women comes from Baby Be Mine.
You can choose between 12 different colors and various sizes when you purchase this dress.
You can enjoy wearing this dress, during your pregnancy, as a maternity dress, and during your breastfeeding months.
The neckline of this gown is elastic, so you can pull it down easily every time you need to breastfeed your little one.
This gown is made of 95% cotton material and 5% spandex. Your skin will breathe easily through this dress, and you will not have to worry about any allergic reactions.
It is the perfect gift for any new mom who wants a cute and efficient nursing gown.
Pros
A wide variety of patterns.
All sizes available
Elastic neckline
Breathable material
Great for both pregnancy and nursing.

5
Ekouaer 3 in 1 Delivery/Labor/Nursing Nightgown Women's Maternity Hospital Gown/Sleepwear for Breastfeeding
Ekouaer offers you a simple yet very efficient nursing nightgown that you can count on every time you need to feed your baby.
The color options you can choose for this dress are impressive, and you will find it in all the sizes you might be interested in as well.
It is a gown made of 95% rayon and 5% spandex, and it is enjoyable to wear during the night as well as during the day.
It is ideal as a maternity gown and a nursing gown, and you will love the soft fabric all the time.
The dress has an opening in the breast area so you can nurse your baby comfortable and discreet every time you need to.
Each dress from this line combines 2 colors and comes in irregular length so you can wear it before and after your baby.
Pros
Many colors to choose from.
Comes in all sizes.
Breast opening for more comfortable nursing.
Great as a pregnancy dress too.
Irregular length

6
Ekouaer Maternity Robe 3 in 1 Labor Delivery Nursing Gown Hospital Breastfeeding Dress Bathrobes
Another gown that is ideal for nursing mothers is this Ekouaer model that also has a very modern design.
This dress comes in nine different colors, which is a great selection, but it also comes in various sizes. You can be sure that you will find just the gown you need for your comfort!
The wrap closure style makes it very easy to put on, take off, and adjust according to your needs. You can breastfeed your baby in a very discreet way using this gown.
This gown also has some large pockets where you can store essential things you want to have handy.
This is the type of gown that you can wear all your pregnancy, as well as the entire nursing phase.
It has loose sleeves and knee-length so you can move freely wearing it at all times.
Pros
Different colors and sizes to choose from when you purchase this dress.
Perfect for pregnancy and breastfeeding.
Large pockets
Loose sleeves
Comfortable material

7
Ekouaer Women's Delivery/Labor/Maternity/Nursing Night Dress
This Ekouaer gown is so functional that you can wear it at all times from the time you get pregnant and way after your nursing phase is over.
You will find this dress in five beautiful shades and all the sizes you might need.
The shoulder snaps make it easy to breastfeed as you will just have to unsnap one of them to nurse your baby.
If you want a dress that will also be great for hospital pictures, this one is one of your best choices.
The material is a combination of rayon and spandex, so you will enjoy both the softness and elasticity of this nightgown.
The pattern of this dress is also adding to its stylish look so you will be modern and looking good all the time wearing it.
Pros
Both soft and elastic material.
Perfect for all stages of pregnancy and breastfeeding.
Shoulder snaps
Different colors to choose from.
All sizes available

8
Kindred Bravely Davy Ultra Soft Maternity & Nursing Pajamas Sleepwear Set
This Kindred maternity set will be easy to accommodate your body during pregnancy but even more important after you had your baby. Also, if it is a set and not a gown, it is definitely worth to mention it here.
The four colors that you can choose from are gorgeous, and this set also comes in the most popular sizes.
You will love the combination of 94% viscose and 6% spandex that makes this set very comfortable and elastic enough to wrap your curves in a flattering way.
Easy breastfeeding access makes late-night meals peaceful and fast. You can also nurse if you have a company thanks to the discreet breastfeeding access of this top.
If you know a pregnant friend or someone who just had their baby, this set might just be the ideal gift for them.
You can wash this set easily, too, by using the washing machine in the gentle and cold cycle.
Pros
Comfortable to wear both during the night as well as during the day.
Will accommodate both pregnant women and nursing mothers.
Discreet breastfeeding access
Easy to wash in the washing machine.
Different colors and sizes available.

9
Motherhood Maternity Women's Maternity Lace Trim Nursing Nightgown
This Motherhood Maternity dress is perfect for women who want to enjoy their comfort but also breastfeed easier.
You can choose between 8 different colors as well as the most popular sizes you might need.
The material of this gown is 96% rayon and 4% spandex. It is elastic enough to give you easy breastfeeding access and incredibly soft and comfortable.
You can wash it in the washing machine with no concerns.
This gown is perfect as a pregnancy outfit, maternity outfit, and nursing outfit. You will be able to just pull down the top and breastfeed your little one with no frustration for either of you two.
The knee-length adds to the overall comfort of this dress, and you will find it very pleasant to wear as you can move freely in it.
Pros
Perfect gown for nursing as well as pregnancy stages.
Elastic material
Pull down design for effortless breastfeeding.
Different colors
All major sizes available.

10
Angelina Nursing & Maternity Nightgown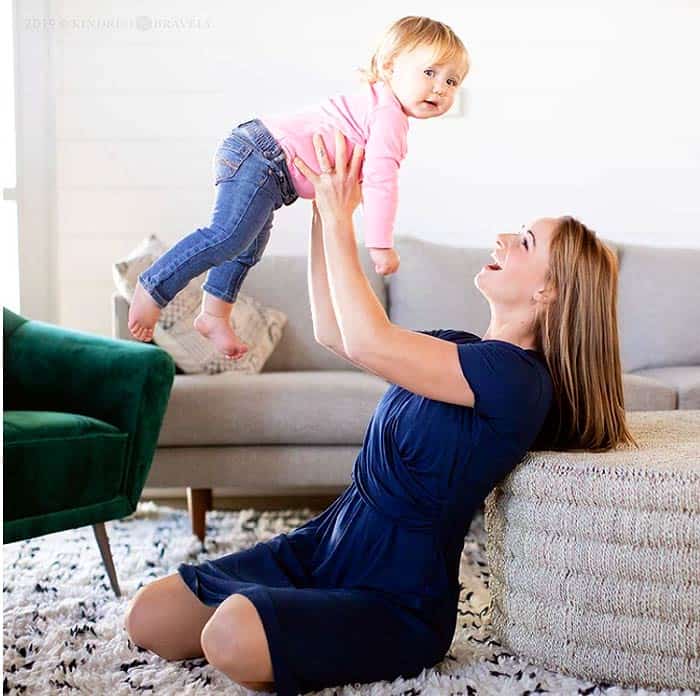 One of the most comfortable nursing gowns that you will find is this Angelina model.
This nightgown comes in 4 color options. It has a simple yet very efficient design that will help you feed your baby with no frustration.
The material of this gown is a combination of 6% spandex and 94% modal. This makes the dress elastic enough to fit you perfectly and extremely comfortable.
It is essential to not bleach this dress as you will stain its color. Simply wash it in the washing machine with a cold cycle. Also, if you need to iron it, use the cool function.
As for the sizes, you can choose between XS all the way to XXL. If you need the XXXL size, don't be disappointed as the stretchy material of the XXL size might accommodate your body too.
This nightgown is a gold winner of Mom's Choice Awards as well and one of the best gowns you can purchase for your breastfeeding nights.
Pros
Elastic material that is comfortable to wear.
Perfect as a maternity gown and also nursing gown.
Gold winner of Mom's Choice Awards.
Four colors to choose from.
Wide range of sizes available.
Check Price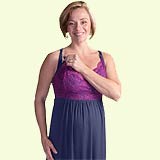 Top-Rated Nightgown For Nursing
Our Pick
As we mentioned, the best nighttime gown for nursing that we would recommend you is the Kindred Lucille black model.
The color of this dress shouldn't be a problem as you can decide for other shades if black is not your style.
We find this gown to be very comfortable and easy to wear thanks to the soft yet elastic material.
You can put this gown on and take it off fast as it is loose and gives you the freedom you need to not waste any time.
But what we most like about this nursing gown are the clip down cups. When you need to breastfeed your baby in the middle of the night, this outfit will make it all a lot easier!
The fact that you can wear this dress as a maternity outfit in the hospital is also a critical plus, and it makes the investment worth it that much more.
Having a high-quality nightgown to wear as you feed your baby is handy. It can save you from plenty of frustration that comes on top of the fact that you will be quite tired, to begin with.
Choose either one of the dresses in this guide, and you will find the comfort a new mom needs to take care of her precious baby!

Key References
"Breastfeeding: the first few days – NHS". Accessed May 16, 2020. Link.