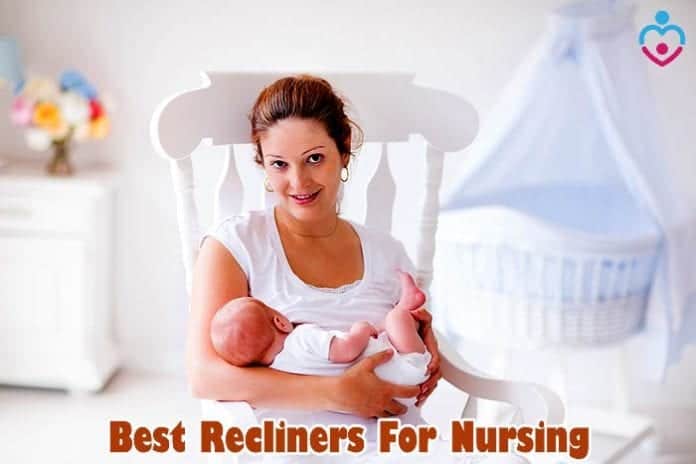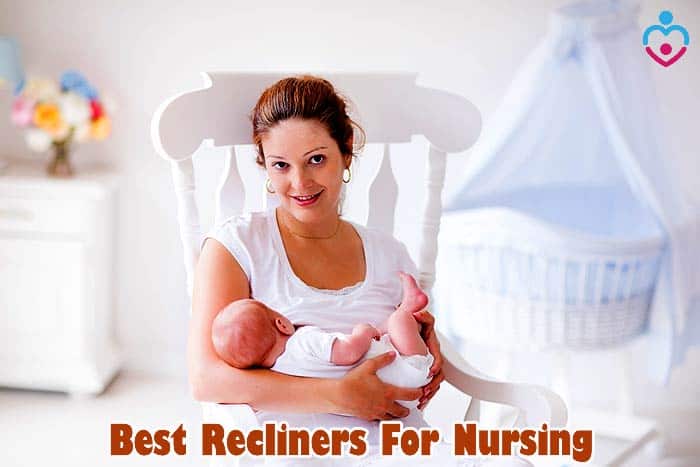 Being a mother is a blessing, and nursing your child is the best thing you can do for them. But you should also be comfortable when you are nursing your baby. This becomes even more important if your little one is a slow eater, and it takes him close to one hour to eat.
Sale
The BEST Recliner For Nursing
Our Pick
All the recliners in this guide are of excellent quality, but if we had to choose just one, we would go for the DaVinci set. This best glider for nursing has all the features that we should look for, and it is worth the investment!
We ♥ honesty! Nursing Moms earns a commission through the following hand-picked links at no extra cost to you.
If you find yourself tired during nursing, investing in a glider recliner might be the best decision for you. You will have to find the best chair on the market to help both you and your baby feel comfortable. This is why we put together the most complex guide to help you find your recliner fast and with no hassle!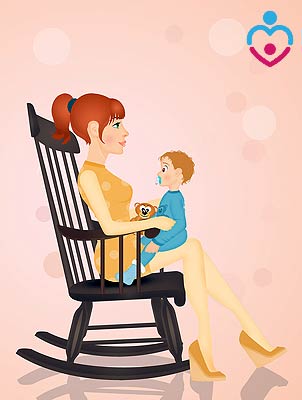 The best nursing recliner chair will offer you the support you need to nurse your baby. You can use such a chair to not just breastfeed your baby but also to put them to sleep when they wake up in the middle of the night. The rocking motion will help them fall asleep a lot faster than any other method.
As you are looking for the best glider chair, you will discover that there are two types of nursery chairs. There are glider chairs and rocking chairs. The main difference is in the motion these chairs create. The rocking chairs rock in the system of an arc. Glider chairs create a back and forth motion by using a fixed track system. You will find gliders that use a swivel system as well.
Unlike some typical rocking chairs, gliders will offer great comfort for both your back and feet so you will enjoy nursing your baby even more. Essentially a glider chair is a chair that gives you the motion you and your baby need to relax while you are nursing them.

Advantages of using a rocking chair for nursing
When it comes to the benefits, there are some obvious ones and some that might not be as obvious. We will go through all of them below!
Glider chairs help you nurse your baby more comfortably. You will be able to sit in a soothing chair and move back and forth, so your baby is relaxed during breastfeeding. This helps your baby eat better, too, since they will not have to feel uncomfortable or get frustrated as you hold them.
You can use a glider chair to put your baby to sleep. These nursery recliners are excellent for putting your baby back to sleep if they wake up in the middle of the night. In the first months of life and even up to one year old, babies tend to wake up at what seems to be impossible hours, such as 3 am. Instead of holding them and walking around the room when you want to sleep too, merely sitting on a glider chair might put them back to sleep in a matter of minutes.
Time in the glider reclining chairs will increase the bonding between you and your little one. This bond is empowered by the fact that you will be able to hold your child in a position that is not difficult for you. You will not have to worry about your back hurting or putting too much pressure on your legs. All you have to do is enjoy the moment!
You can use this best rocking chair for nursery every time you need a nap yourself. Parenting is hard and very exhausting, especially while you are nursing your baby. So, having such the best glider for breastfeeding will allow you to nap in your baby's room every time you need to recharge your batteries. Don't be surprised if your partner wants to give it a try too.
Glider chairs can benefit the mother's health as well. As your body moves back and forth, your blood pressure might get more balanced, and you can help your respiratory system too. There are no scientific studies in this regard, but doctors highly believe that moms can benefit significantly from using a reclining nursery chair.

What to look for?
Chances are you never shopped for the best gliders for nursing. So, if this is the case, here is what you need to pay attention to!
The leading quality of the best nursing chair is its comfort. And the comfort comes in the most part from the cushioning system.
You want a nursing rocking chair that offers you a thick cushion seat as well as a cushioning backrest and padded arms.
The thicker these cushions are, the better for your comfort. Think that you might have to sit in such a glider recliner chair for more than one hour at a time.
You need to be relaxed and focused on your baby during this time. If your nursing glider chair offers you a great cushioning system, you will not have to worry about anything else comfort-wise.

Nursing recliners will come mainly with a back and forth motion. But you can find ones that use a swivel motion too.
The more options you have in terms of movement, the better for you and your baby.
Plus, your preferences might be different than your baby's choices in terms of the motion.
Some babies fall asleep faster during a back and forth motion while others need swivel motion.
You should also go for a locking system. Baby reclining chairs with a locking system will not move when you need to get off them. This is a safety aspect as you can rely on more stability.

Some reclining nursing chairs come with extra pockets that can turn out to be very useful.
When you are nursing your baby or trying to put them to sleep, the last thing you want to do is get off the chair to get a wet wipe! If your chair comes with storage pockets, you will not have to do that.
You might also be interested in a recliner rocking chair set that comes with a chair and an ottoman stool.
The stool might provide some extra storage inside of it, too, depending on the model.

D) Durability and Maintenance
Since you will spend a significant amount of time in the glider chair, you should be able to clean it easily too.
Make sure the cushions are removable, and you can wash them as you need.
The frame of the recliner rocking chairs tends to define its overall durability. You can find gliders made of wood frames or metal frames.
They can both be resistant as long as the materials are of high quality. However, mothers tend to prefer metal frames as they tend to last even longer than the wood ones.

As there are things you should look for in a recliner for nursing, there are also things that you should avoid.
No cushioning or poor cushioning: Some recliners have very thin cushioning that offers no comfort at all. They might look good if they are designed stylishly, but the ultimate test should be how well you can relax in them. You also want to stay away from chairs that don't come with padded arms. It can be very bothering to rest your arms for hours on hardwood or metal frame.
Noisy chairs: The idea of comfort also implies the concept of silence. You or your baby will not be able to relax and enjoy your time together if your glider chair keeps squeaking during motion. Even the slightest noise could be bothersome when the room is silent, and you are trying to put your little one to sleep. Noisy recliner nursing chairs shouldn't be on your shopping list.
Unstable frames: If your glider chair is not stable, not only that, you will not be able to rely on it for a long time, but it will not be safe either. Your chair should not move unless you are moving with it. It should lock in place when you get off it and not present any hazards for you and your little one. If the frame is of poor quality, you will not be able to trust the chair, and you are prone to accidents as well.

Best Recliners for Nursing
Here are the best recliners or rocking chairs for nursing on the market today:
1. Graco Parker Semi-Upholstered Glider
Graco glider from Stork Craft is one of the best nursery chairs you should look at. This breastfeeding rocking chair has all the features you would expect to find in such a chair.
You can choose between two color patterns so it will match your baby's room better.
This best chair for breastfeeding baby has a lot of cushions too. The arms, the seat and the back are made of soft plush, and there is a support for your feet as well.
Along with this chair, you also get a pull-our stool that you can use when you need extra comfort for your legs and feet.
Both the ottoman and the glider will offer you a relaxing motion to help soothe your baby to sleep or make their nursing time more enjoyable.
These items will last for a long time, as the materials they use are resistant and extremely comfortable.
This best nursing recliner is covered in polyester material, and you shouldn't have any problems cleaning it.
Pros
Comes with a nursing stool and a glider chair.
Easy to clean
Comfortable cushioning system
Adjustable design
Two colors to choose from.
Cons
It might be too narrow for some mothers.
You might need to reinforce the screws to keep it moving smoothly.
Check Price on Amazon

2. Windsor Glider and Ottoman, White with Gray Cushion
Another set of glider and ottoman nursery is this product from Angel Line that you will fall in love with!
There are not less than 17 colors to choose from. You will definitely find the best one for your nursery room.
This set of glider chair and ottoman has wood frames for both products. This makes both pieces very stable and durable.
You will love the generous cushions that cover this nursing rocking chairs. The arms are padded as well, so you can have all the comfort you need.
This best chair for breastfeeding baby is broad, and it comes with useful storage pockets. You will not have to get up to get wet wipes or other items you need for your little one.
The cushions are removable so you can wash them easily every time you need them. But be careful to not wash them in the washing machine because the fabric is too sensitive.
Pros
Set of glider chair and ottoman.
Wood frame
Storage pockets
Removable cushions
Different colors to choose from.
Cons
Can't be washed in the washing machine.
Check Price on Amazon

3. Delta Children Emerson Upholstered Glider
This Delta Children glider chair will be just what you need to enrich the beauty and functionality of your nursery room.
You can choose between beige and a grey color according to the design in your space.
This best chair for nursing is very quiet, so this nursing recliner chair will offer you the comfort of a swivel motion without a noise.
The sturdy frame offers you both stability and support that you and your baby need. You will not have to worry about safety aspects with this glider chair.
The arms are padded with a thick cushion, and you can remove the seat cushioning every time you need to clean it.
Also, the backrest is made of a thick cushion, and it is high enough to allow you to rest your head.
Pros
This best rocking chair for nursing comes in 2 colors.
Sturdy frame
Silent during motion
Removable seat cushioning
Padded arms
Cons
Not a budget-friendly product.
Might be challenging to put together.
Check Price on Amazon

4. DaVinci Owen Upholstered Swivel Glider & Storage Ottoman
DaVinci offers a very useful nursery set with all the pieces you need to nurse your baby comfortably.
This best chair for nursing baby set has the Greengusrd Gold Certificate. It was tested for 10 000 chemicals so you can trust the materials used to make it. Moreover, it adds to the quality of the indoor air, which will benefit your baby's sleep and wellbeing.
The motion of this best recliner chair goes 360 degrees as well as back and forth according to your preferences.
This nursing gliders set comes with a glider chair and an ottoman nursery stool. You can use the ottoman for storage and resting your legs. Inside ottoman, you can place all your nursery supplies, so you have them handy at the right time.
This baby recliner chair also comes with useful side pockets where you can place more items you need.
When you purchase, the manufacturer offers a lumbar pillow as a bonus. This pillow will help you support your back and stay in a more comfortable position.
The upholstery is toxin-free, and it is not flammable either, so you and your baby will be safe at all times.
Pros
Greenguard gold certificate
No harmful chemicals
Comes with a bonus lumbar pillow.
360 motion as well as back and forth motion.
Easy to set up.
Cons
It might make some noise during the back and forth action but not enough to be bothering.
Check Price on Amazon

5. Dutailier Sleigh 0372 Glider w/ Nursing Ottoman
Dutailier offers an excellent nursery glider chair is another fantastic option for your nursing times.
This best nursing chair recliner set comes with a glider chair and an Ottoman stool. Both of them are covered in a polyester material so you can clean them as often as you need to.
The seating is exceptionally comfortable with a high-quality cushioning system that you will love.
You will receive it pre-assembled, but you will have to add four screws and place the cushion. This is relatively easy, though.
You can adjust the backrest to 45 degrees to make it entirely comfortable for any position.
The cushioning is thick, and the arms are padded as well. You will feel so relaxed in this best nursery glider that you might take a nap too while you are in it.
Pros
Polyester material
Easy to clean
Adjustable backrest
Comes pre-assembled
Thick cushioning
Cons
Pricier than other glider chairs.
It might make noise during motion.
Check Price on Amazon

6. Dutailier Sleigh 0398 Glider w/ Nursing Ottoman
Another best chairs for breastfeeding with ottoman stool from Dutailier is this functional yet very relaxing product.
Both the glider chair and the stool are covered in a polyester material. This material is resistant and easy to clean, so you can enjoy it for a long time.
You can choose between three different colors, and they are all made with impeccable finishes.
The best nursing glider set comes pre-assembled, and you can start using it in minutes once you get your package.
Thanks to the multiposition-lock system, you can lock the glider in place at the angle you wish.
The backrest is easy to adjust as this nursing chair recliner comes with a 45 degrees recliner that allows you to set it up just the way you need.
Pros
This chair for nursing mothers comes in 3 colors.
Multiposition-lock system
Adjustable backrest
Polyester material
Easy to clean
Cons
Might not be wide enough for some mothers.
Assembling ottoman and glider might be difficult for some.
Check Price on Amazon

7. Christopher Knight Home Ishtar Glider
The last but not least glider chair that you can count on for extra comfort during nursing times is this Christopher Knight Home product.
You can decide between four different colors, so this reclining glider will be ideal for your nursery room.
The first thing you will love about this recliner glider chair is its modern and sleek design. Its minimalistic lines make this chair perfect for any type of home.
The system is a push-back recliner that allows you to relax just the way you want to. It is perfect for nursing your baby, putting them to sleep, or simply take some time for yourself.
The fabrics of this glider nursing chair are not just comfortable but also very resistant to tears and other hazards.
The motion can be a gliding motion but also a swivel one, so you get to choose which way you want to move to get comfortable.
Pros
Minimalistic design
Different colors to choose from.
Push-back recliner system
Both gliding and swivel motion.
Perfect chair for nursing but also relaxing.
Cons
No storage pockets
It comes unassembled and might be challenging to put it together.
Check Price on Amazon

Sale
The Top-Rated Recliner For Nursing
Our Pick
As we mentioned, one of the best recliners for nursing you can invest in is the DaVinci nursing chair.
This chair comes in 3 colors to accommodate your nursing room, just the way you want to. You can choose between a dark grey, grey, and navy style.
What we loved about this chair is the fact that it is certified as a toxin-free product. Unlike other chairs, this one will not expose you or your child to any harmful chemicals. This best breastfeeding chair is one of the few chairs that have the property to better the air in the nursery room.
It is also surprising that this rocking chair respects the highest CA TB117-2013 flammability standards in the safety industry.
The storage that this set provides is impressive as well. You can store useful things in the side pockets as well as inside the ottoman stool.
We also appreciate the lumbar pillow added as a bonus to this set, which can only increase your comfort and protect your back.
Recliners come in all forms, shapes, and colors. But not many are as efficient and pleasant as the products in this guide.
We went above and beyond to identify the best recliners for nursing mothers, and we managed to put together a list that will not disappoint you.
Choose the recliner chair that has most of the features you expect and forget about uncomfortable nursing hours! You deserve to relax and enjoy your time with your baby every moment of the day!

Key References
"Why Do Babies Wake Up at Night? | HuffPost Life". Accessed March 04, 2020. Link.
"SAGE Journals: Your gateway to world-class journal research". Accessed March 04, 2020. Link.
"The new California TB117-2013 regulation: What does it mean?" – Green Science Policy. Accessed March 04, 2020. Link.