Dates are a great alternative to processed sugar and other sweeteners but can your baby enjoy some of these delicious fruits? These fruits are very sweet; therefore, you should be cautious if you want to add them to your baby's diet. You will have to be aware of a series of hazards before feeding your baby dates or any foods containing this fruit.
We ♥ honesty! Nursing Moms earns a commission through the following hand-picked links at no extra cost to you.
Can Babies Eat Dates?
As a general rule, dates, and products containing dates are safe for babies at least 18 months old. But it is vital to consider the choking risk as well so, preparing the date the right way is essential for your child's safety.
Due to the increased sweetness level, you should feed your baby these fruits only as an occasional snack. It is not recommended to add dates to their daily diet.

At What Age Can Babies Eat Dates?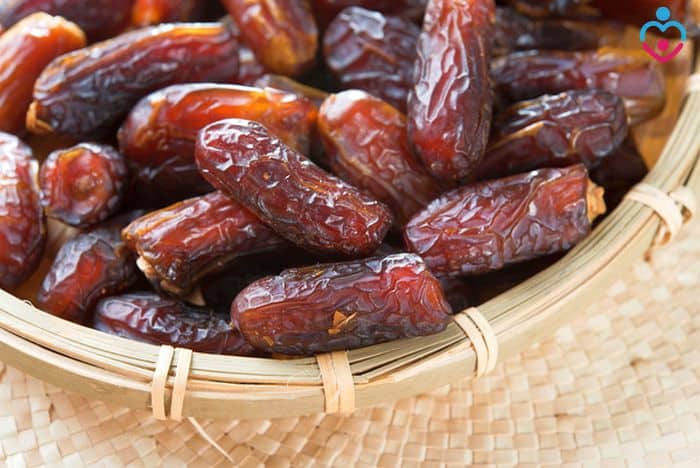 Even if dates are considered a healthy alternative to sugar, you don't want to feed them to your baby too early.
A child under the age of 18 months will notbe prepared to digest and appreciate the benefits of dates to their fullest potential.
Feeding your baby dates too early and not cooked properly can expose them to choking hazards.
You would also add too much sugar to their diet, which is dangerous for their digestive system and blood circulation. Dates are 66% sugar, which is an impressive amount.
Suggested Reading:

Nutritional Benefits of Dates for Babies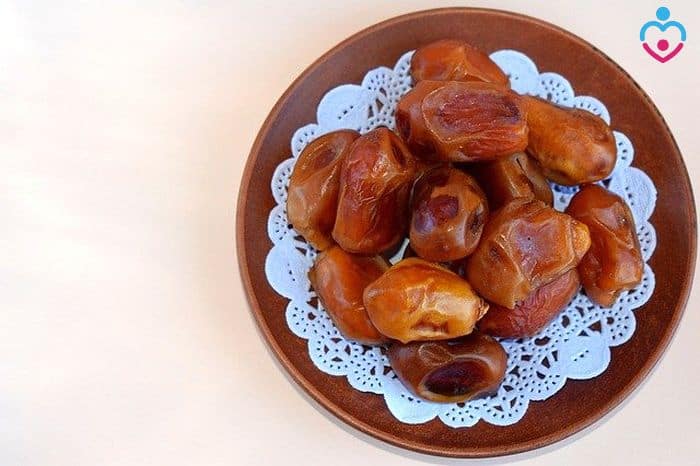 Even if dates are mostly sugar, several benefits make adding dates to your kid's diet a great idea, as long as you do it the right way.
Dates are rich in vitamins and minerals, as they contain 15 different essential minerals. These sweet fruits have calcium, all types of B vitamins, zinc, selenium, copper, and iron.
They are also high in fiber, so your baby will have more regulated bowels and a healthier digestive system.
The best form to feed your baby dates is unprocessed. However, you should check them for seeds and make sure they will not present any choking hazard for your little one.
Even babies older than 18 months can be at risk for choking.

Dates For Babies Side Effects
Another common concern for all parents is the potential allergy a baby can develop to date. The good news is that dates are not some of the most dangerous allergens, and they are considered mostly safe.
However, people who are allergic to pollen are more sensitive to dates as well. So, if your baby has an allergy to pollen, you want to feed them dates with caution.
If you are feeding your baby dates for the first time, give them a small quantity. Watch them for potential side effects over the time of a few days after they eat dates.
If they have no side effects, you are safe to increase the quantity of the dates for future meals as they don't have any allergy to these fruits.
An allergy to dates generates symptoms such as hives, itching around the mouth, nasal congestion, trouble breathing, diarrhea, and vomiting. If you notice any of these signs after your baby ate dates, consult your pediatrician right away and stop feeding them these fruits.
Suggested Reading:

Can Babies Eat Date Powder?
A good option for many baby food recipes is date powder. Date powder is straightforward to make in the house, but you can also purchase it from almost any supermarket.
It is a sweet powder made from dried dates that are blended until they reach a fine texture. Some manufacturers add an anti-caking agent to this powder, but it is just as good without such an ingredient.
The advantage of date powder is that it contains the natural benefits of dates, making it a great alternative to regular sugar.
You can add it to any baby food to obtain a sweeter and healthier taste in a powder form.
Make sure, however, that your baby is not allergic to dates before you introduce date powder to their diet.
Date powder is safe after one year old because it is too sweet, and your baby might not be able to process it at its best if you introduce it too soon to their diet.
Check Price on Amazon

Can Babies Have Dates Syrup?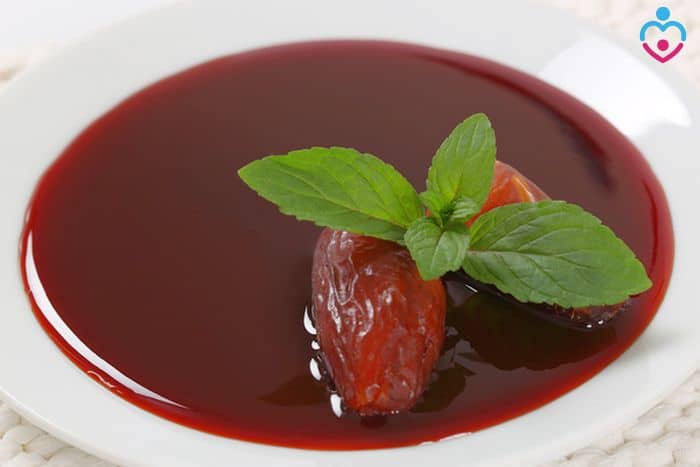 Date syrup is another popular sweetener that can replace regular sugar successfully. But can your baby have date syrup, and if so, since what age?
You can safely add dates syrup to your baby's food once they turn one year old. Before this age, your baby has no need for any type of sweetener. Even if it might not hurt them, it is best to avoid dates syrup for babies due to its high sugar concentration.
Even if date syrup is a natural sweetener, try not to add it to all your meals that your baby refuses to eat.
Babies will like everything sweet, but you want them to enjoy all tastes and learn to appreciate different dishes.
In moderation, date syrup can help your baby with constipation and add many nutrients to their diet. The vitamins and minerals present in dates are also present in the date syrup. They can keep your baby free of anemic tendencies.

Can Babies Have Date Palms?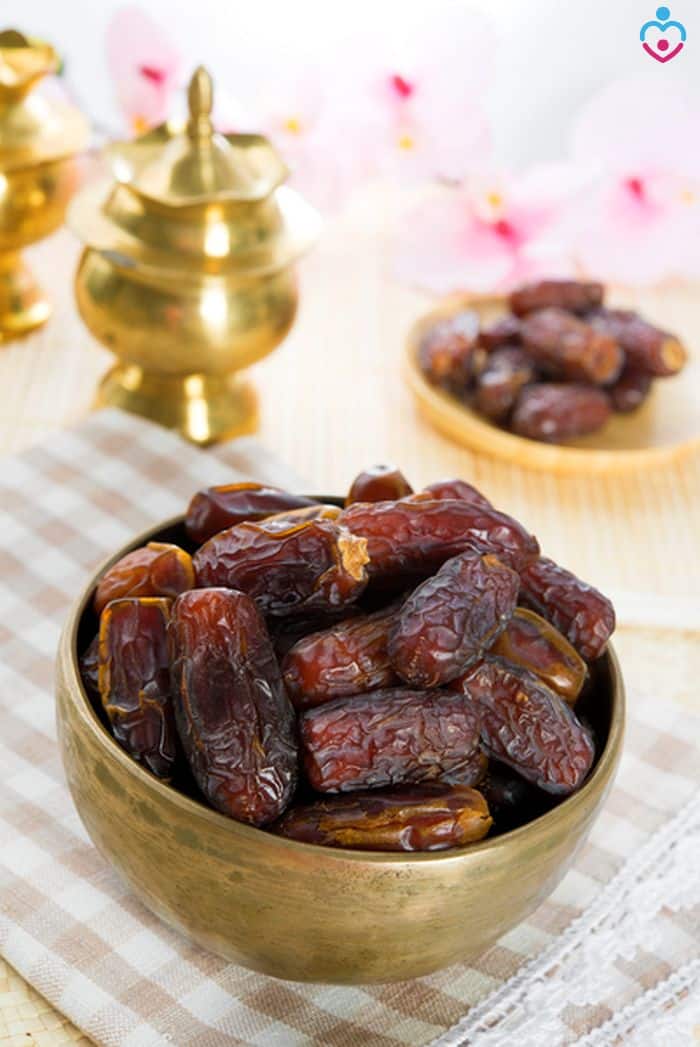 Date palm is not such a typical food to feed your baby, and it is not very popular among adults either. Date palm is a type of plant used a lot for medicinal products.
The juice of this plant is very efficient against breathing issues and coughs. Likewise, the pollen of this plant is an excellent natural treatment for inflammation or other swelling conditions.
Besides these benefits, the date palm plant has plenty of other advantages. Still, you shouldn't overuse it as it can give side effects as well.
If you think of giving date palm to your baby, you should always talk to your doctor beforehand. There are not enough studies to certify how this plant can impact babies. Even the recommended doses for grown-ups are questionable.
The side effects that could appear once the date palm plant is administrated are the same in case of a date allergy. However, there are not enough studies to know exactly what side effects this plant might have on babies so, always use it with caution.

Can Babies Have Medjool Dates?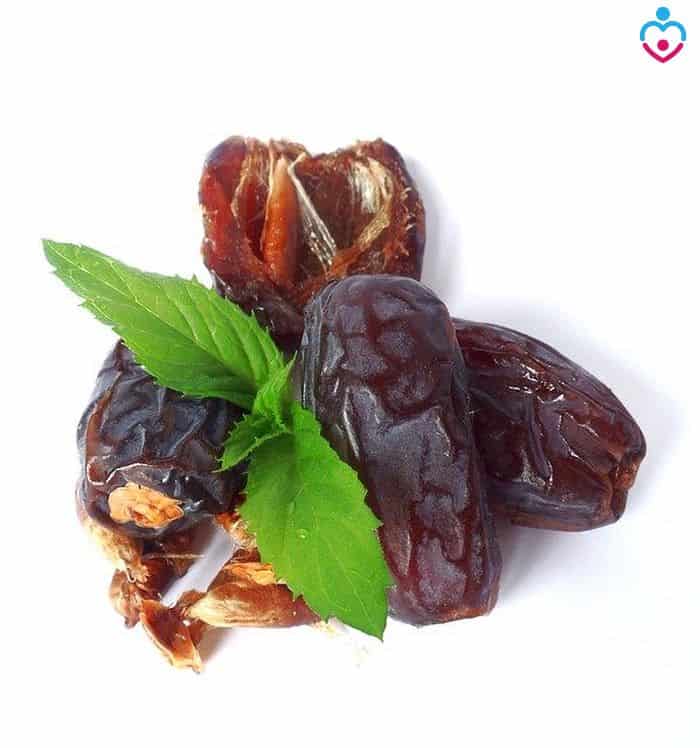 In terms of safety and benefits, Medjool dates are not different than other types of dates. However, these dates are bigger and softer than other strains, and they also tend to have a darker color.
Medjool dates are sweeter in a dried version, but they are usually commercialized dehydrated.
You can give your baby these dates once they turn 18 months old. Keep in mind that you should prepare them in a way that eliminates choking hazards. Also, feed your baby these dates in moderation as you don't want them to have too much sugar.
Among the benefits of feeding your baby Medjool dates, we can mention that they encourage a healthy heart rate, reduce cholesterol, and help your baby have regular bowels.
The nutrients found in these dates are the same as those found in other types of dates. You will count on their concentration of iron, calcium, copper, B vitamins, and plenty of fiber.
Your baby will also have a healthier digestive system if you add these fruits to their sweet purees every now and then.
Eating Medjool dates twice or three times a week should be enough for a toddler. And you don't have to add more than one date per portion as they are very sweet.

Can Babies Have Pureed Dates?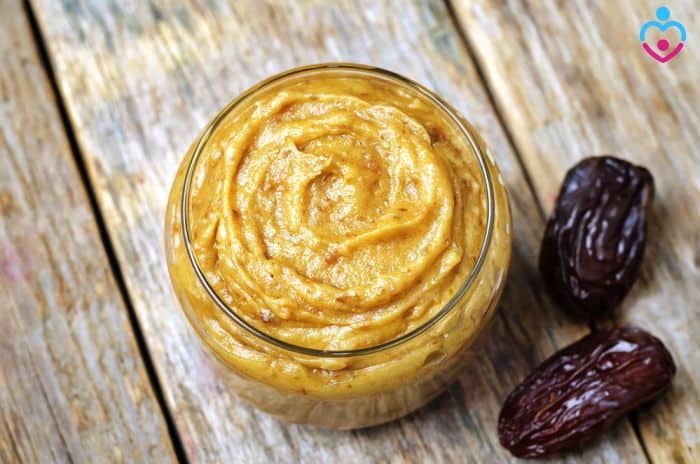 Babies can have date puree as long as you prepare it properly and, in a form, they can easily digest it. You will have to take the seeds off the dates and allow them to soak in hot water for about 10 minutes.
You will only have to add enough water to cover the dates. After they are soaked, put the dates and half of the water in a blender and blend until you obtain a smooth paste.
You can add 1 or 2 teaspoons of date paste to any baby puree you want to sweeten up. Don't feed your baby only date paste at once in the first two years of their life.
Gradually increase the quantity of date paste you add to their purees as they grow older. It is also essential to start with a small quantity to make sure your little one has no allergy symptoms.

Can Babies Eat Red Dates?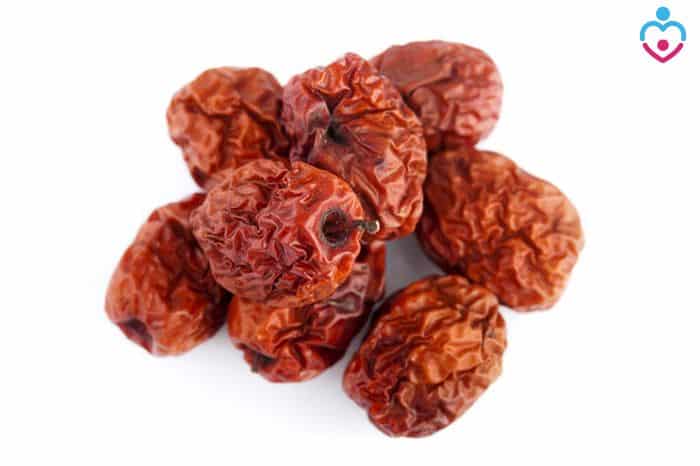 Red dates are also known as Chinese dates, and they are full of nutrients that will help your baby stay on the path to excellent health.
In China, these dates are considered some of the healthiest foods your baby can eat, and they bring plenty of health benefits for adults as well.
These red dates are a bit softer, and they smell sweeter than other types of dates, but they are very much healthy for your baby.
You can feed them red dates in a powder form as soon as they turnsix months and in an unprocessed form over 18 months.
You can follow the same guidelines you would when you add other dates to your baby's diet, as red dates are not much different.
Red dates can help your little one sleep better and wake up more well-rested. They improve blood circulation and encourage the development of the liver.

Can Babies Eat Dates Every Day?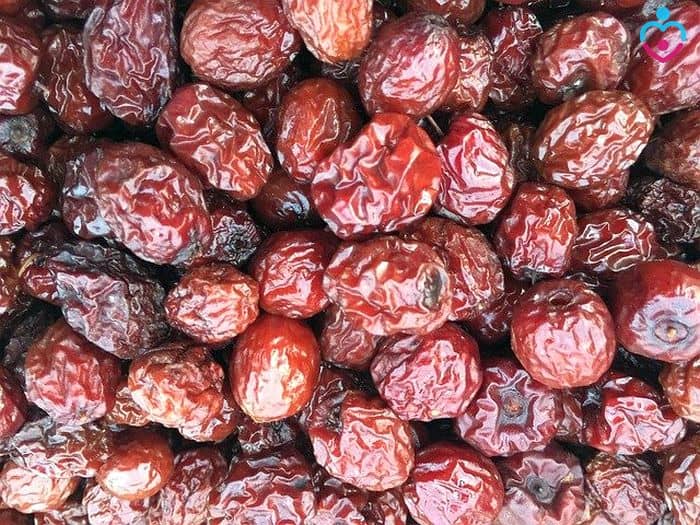 Even if dates are full of nutrients and benefits for your baby's health, it might not be a good idea to feed them these fruits daily.
The main reason you shouldn't give your baby dates daily is the high sugar concentration that these fruits have.
Babies under 6 months shouldn'thave dates as the breastmilk or formula provides them with all the nutrients they need.
Once you introduce dates, being it as a powder or fresh dates, start with 1 or 2 dates or 1 teaspoon of date powder.
If your baby presents no side effects, you can continue to add this food to their diet as part of a snack. Giving your child dates two to three times a week should be plenty.
As your baby grows, you can increase the number of dates you add to their meal from one teaspoon to two teaspoons or from one date to two dates. You can taste their food as well to make sure it is not too sweet.
If you notice any signs of date allergy in your baby, stop giving them this fruit and talk to their pediatrician.

Top 5 Baby-led Weaning Date Recipes
If you want your baby to benefit from the nutrients that dates bring to their diet, here are five simple baby led weaning dates recipes you can prepare for them!
1. Carrot and Date Puree
Carrot and date puree is one of the easiest recipes to make when introducing solid foods to your baby.
You will need carrots and dates. You can add other dried fruits as well, according to your baby's taste. But this recipe will turn out great by using just carrots and dates.
The quantities you use will vary according to how much food you want to make. For one portion, all you need are two dates and two medium-size carrots.
Boil the carrots and cut them into slices. Add them to your blender along with the dates. Make sure you take the seeds off the dates before blending them.
Use some water or vegetal milk to obtain the creamy consistency you want. Serve it to your baby as soon as it is cooled down.
Suggested Reading:

2. Dates and Banana Milkshake
This dates milkshake for babies recipe is ideal for one year olds.
You will need one medium-size banana, two dates, and vegetal milk of your choice for this recipe.
All you have to do is take the seeds off the dates and add them to the blender along with the chopped banana and enough milk to get a creamy and runny consistency.
Your baby can drink this milkshake directly from a bottle or a sippy cup, or they can use a regular glass.
Other toddlers will have no problem enjoying this milkshake with a straw.
Suggested Reading:

3. Dates and Rice mix
You will need two cups of cooked rice, half a cup of chopped fresh dates, half a cup of chopped dried dates, and three to four cups of water for this recipe.
Cooking this recipe is relatively easy as well. It is recommended to let the dates soak in hot water for up to one hour.
After the hour is over, add the dates, rice, and water into a blender.
Blend all ingredients until you get the puree consistency you want.
You can adjust the water quantity according to how your baby likes the consistency.
This is an excellent recipe for babies 8 months or older.
Suggested Reading:

4. Dates, Mango, and Apple Puree
If you want a delicious dessert for your baby as they start the weaning phase, combining dates with apples and mango is a great choice.
Chop the fruits and add them to your blender along with one cup of water. You can add more or less water as per the consistency you want.
As for the quantities, you will not need more than one small mango, one apple, and two dates to obtain a generous portion.
It shouldn't take you more than a few minutes to put together this nutritious and tasty meal for your baby.
Also, for this recipe, you can use dried dates or fresh dates as you want.
Suggested Reading:

5. Date Energy Balls
This is one of the best recipes for toddlers if you want to use dates. You will need almonds, cashews, dried dates, nut butter or other seed butter, cinnamon, vanilla, and optional, tahini paste.
Mix together one cup of almond or cashew, half a cup of dates, 1/4 cup of nut butter, a pinch of cinnamon, vanilla extract, and one tablespoon of tahini paste.
Blend until you obtain a homogeneous paste from all the ingredients combined.
Shape little balls of this composition and place them on a tray without touching each other.
Put the balls in the fridge until they get firm.
You can store these date balls in the fridge for up to a week and in the freezer for one month.
Suggested Reading:

How Many Dates Can A Toddler Eat A Day?
Your baby shouldn't have dates every day as these fruits have a high sugar level. However, if you give them dates along with certain meals they have, you want to start with 1 date at a time.
You can increase the quantity as your baby gets older, and once you are sure, they don't have any side effects from eating dates.
As a general rule, however, a toddler of around two years old shouldn't have more than two dates a day. This is important as you don't want to give them too much sugar, and dates are very rich in sugar.
It is essential to prepare the dates correctly so they don't present any choking hazards.

As you can see, the dates are very healthy for both children and adults. But it is essential to add them to your baby's diet the right way. You don't want to add dates to their meals too early, and you should be aware of all the potential risks.
If you have any additional questions, don't hesitate to talk to your pediatrician. If you introduce dates correctly to your baby's diet, they will benefit from them a lot!

Key References
"Date Palm: Uses, Side Effects, Interactions, Dosage, and Warning". Accessed January 16, 2021. Link.
"Date Allergy Symptoms and Diagnosis – Allergy Symptoms". Accessed January 16, 2021. Link.
"What To Feed Your Baby | Around 6 months | Weaning | Start4Life". Accessed January 16, 2021. Link.