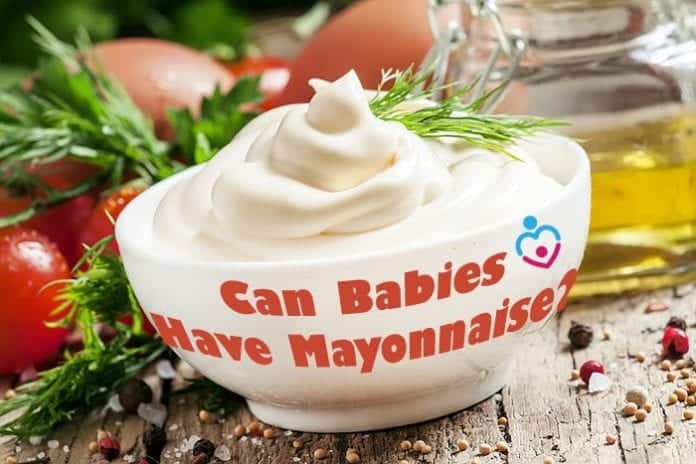 Mayonnaise might be one of your favorite sauces when it comes to many dishes. But can you give food that contains Mayonnaise to your baby? Since Mayonnaise is such an everyday food, many parents think it presents no risks for children, even those of a young age.
Before you give your baby mayonnaise, you should consider certain aspects, and we will address them one by one as follows.
Can babies have Mayonnaise?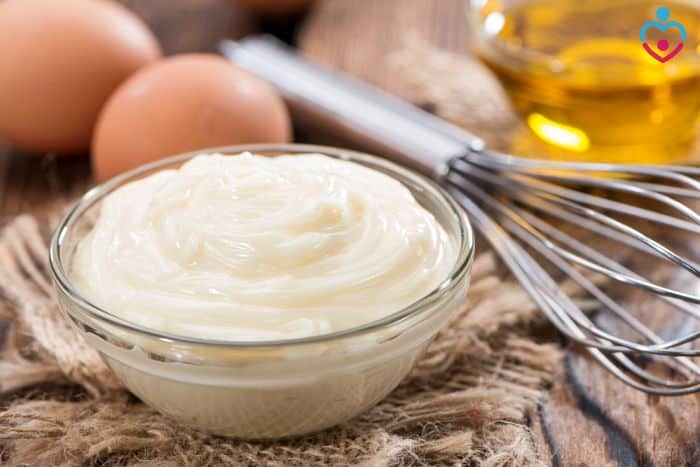 Your baby can safely have Mayonnaise once they are 6 months old. You should wait until this age because this is when they can have eggs. But since you will start adding solid foods when they turn six months, you might want to wait a few more weeks until you give them a heavy dish containing Mayonnaise.
Your baby's solid food diet should start with veggies and fruits. Once you see that they are safe eating those, you can start introducing animal protein, including Mayonnaise.

Types of Mayonnaise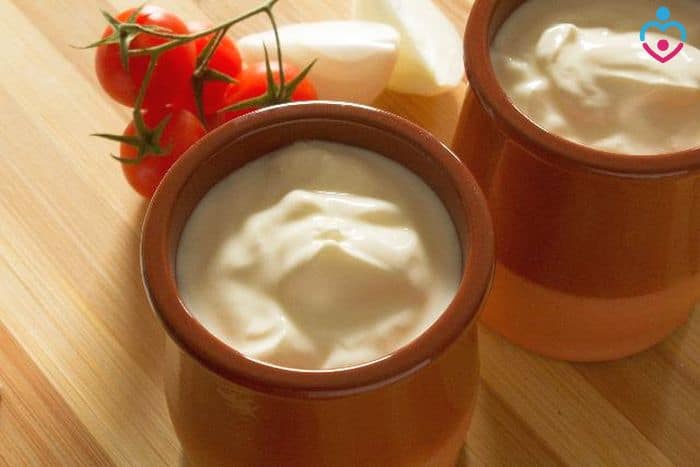 You will have to consider different types of Mayonnaise as well. While there are tenths of Mayonnaise brands that you can find on the market, this food is generally split into 3 major types.
You will find original Mayonnaise that doesn't contain any extra flavors or herbs, flavored Mayonnaise, and vegetal Mayonnaise.
The vegetal Mayonnaise doesn't contain eggs or any animal ingredients, so it is very suitable for vegans or babies with specific animal protein allergies.
When it comes to flavored Mayo, you will have to pay attention to different flavors. If your baby is allergic to garlic, for instance, try to avoid giving them garlic-flavored Mayonnaise.
There is also the Mayonnaise you can make at home, which is the best and healthiest type. By doing the Mayo at home, you can control all; the ingredients and prepare it as suitable for your child as possible.
Suggested Reading:

How's Mayonnaise made?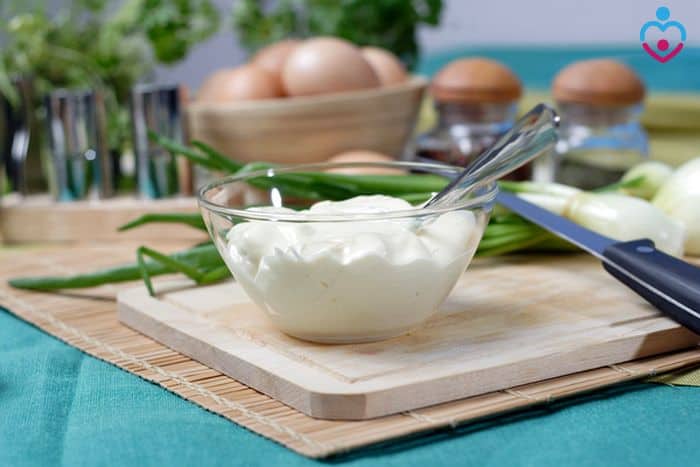 Making Mayonnaise is not complicated at all. While there are many recipes you can follow, according to different world regions, there is also a standard one that will turn out delicious. You shouldn't spend more than 10 minutes to make a delicious mayonnaise for your family!
To make a tasty mayonnaise at home, all you need is 2 eggs, 500 ml of unflavored oil, a pinch of salt, one-two tablespoons of vinegar, a tablespoon of mustard, and the juice from half a lemon.
Mix the egg yolks in a large bowl until they become homogeneous in consistency. Add the mustard over the egg yolks and gradually add the oil as you keep mixing.
When you added half of the oil, continue by adding the vinegar and salt and keep mixing. When you finished the oil, add the lemon juice and taste to see if it needs more seasonings.
A mayonnaise homemade will last you up to one week in the fridge as long as you store it in a sterile container.
If you are concerned about feeding your raw baby eggs, you can boil the eggs before adding them to your mayonnaise recipe.
Suggested Reading:

At What Age Can Babies Eat Mayonnaise?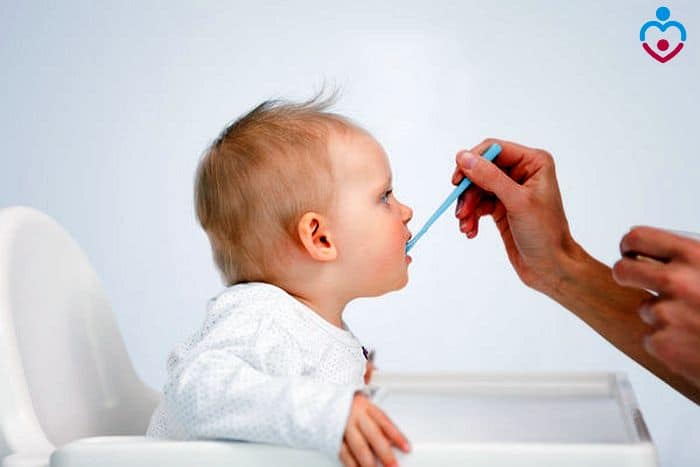 Babies start eating solid food at 6 months. In theory, this is also the age you can introduce Mayonnaise to their meals. But keep in mind that Mayonnaise is heavy food, and not all babies might be ready to digest it at this young age.
So, even if it is safe to give them Mayonnaise at six months, you want to give them small quantities of it. You can, however, wait until your baby is eight or even ten months before they can fully enjoy dishes that contain Mayonnaise.
Eggs are the main challenge when it comes to giving your baby mayonnaise. Babies might not be able to digest eggs at 6 months, which keeps an eye on.
Each baby is different, though, so if you know that your child has no problems with their diet, you can safely introduce eggs.

Nutritional Benefits of Mayo for Babies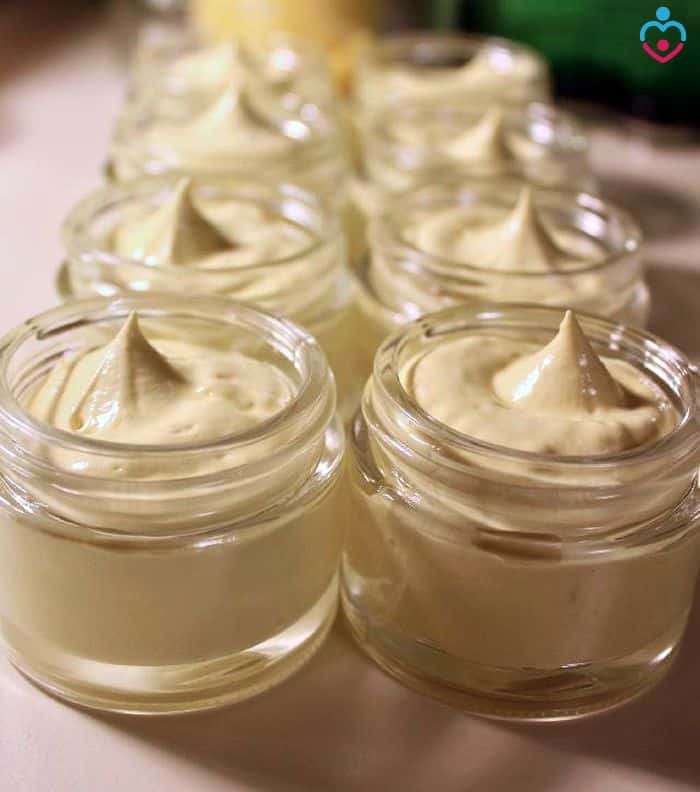 Besides the delicious taste of Mayonnaise, you might wonder if there are any health benefits to this type of food. The good news is that Mayonnaise contains nutrients such as vitamin E, which is beneficial to the heart's development.
Also, because Mayonnaise is rich in healthy fats and vitamin E, it will help your baby assimilate vitamins from other foods such as vitamin A, D, and K. thanks to the healthy fats, Mayonnaise will help reduce cholesterol and empower the immune system.
Among other nutrients, Mayonnaise contains potassium, selenium, and sodium. All these, along with vitamin E and K, will work for your child's benefit as long as they eat Mayonnaise in moderation.

Allergic Reaction to Mayo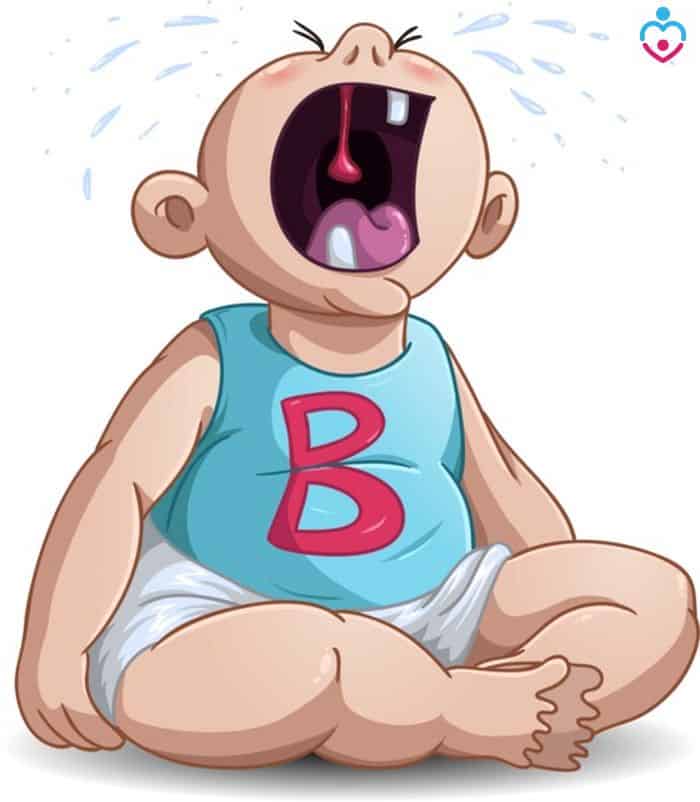 When it comes to potential allergies that might affect your baby when they eat Mayonnaise, eggs are the main culprit.
Some babies could develop an intolerance to Mayonnaise, even if it is not as bad as an allergy.
To avoid such unpleasant side effects is essential to understand the symptoms that you have to look after.
The difference between food intolerance and allergy is significant. If your baby is just intolerant to Mayonnaise, they will have problems digesting it but with mild symptoms.
However, if they are allergic to this food, the symptoms can even be life-threatening.
After you fed your baby mayonnaise, look out for potential symptoms such as hives, rashes, cramps, vomiting, diarrhea, difficulty breathing, and fussiness.
If any of these symptoms appear, stop feeding your baby this food and talk to your doctor.
It is essential to learn if they have an intolerance to Mayonnaise or allergic to it. In case of an allergy, avoid Mayonnaise altogether when it comes to your baby's diet.

Can Babies Have Hellmans Mayonnaise?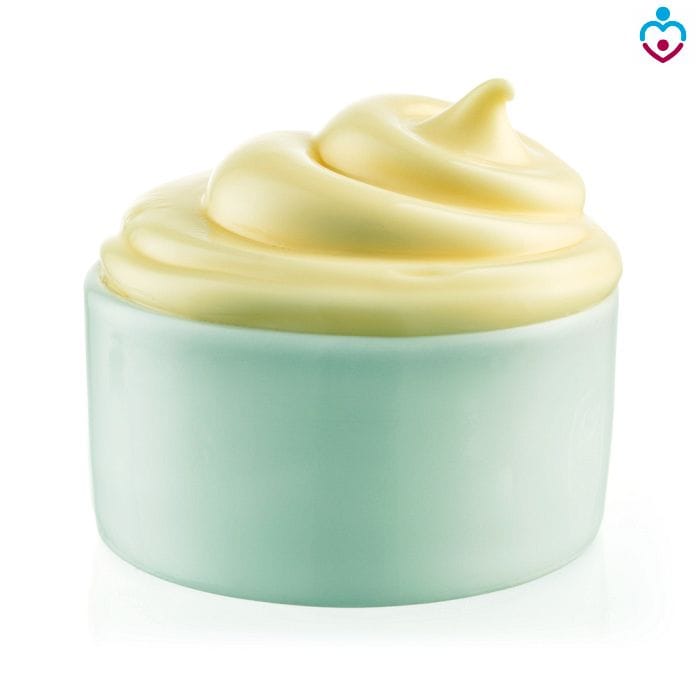 Hellman's is one of the most popular brands of Mayonnaise and sauces worldwide. You will most likely find it in most supermarkets and stores, which makes it very convenient.
Hellman's Mayonnaise is a good brand with quality ingredients. If your baby can have eggs and presents no allergic reaction to any of the ingredients in Mayonnaise, there is no way they couldn't enjoy the Hellmans Mayo.
This Mayo comes in many types as well. If you think of giving Hellmans Mayonnaise to your baby, try to stick to the original recipe at first. This is because the original version contains fewer ingredients, and it comes with no extra herbs, so you avoid potential side effects better.
As long as you don't overdo it, adding a little mayonnaise to your baby's puree can even be beneficial for them. You will get them used to different tastes.
You will be able to diversify their diet easier as they accept new textures better.

Can Babies Have Tuna Mayo?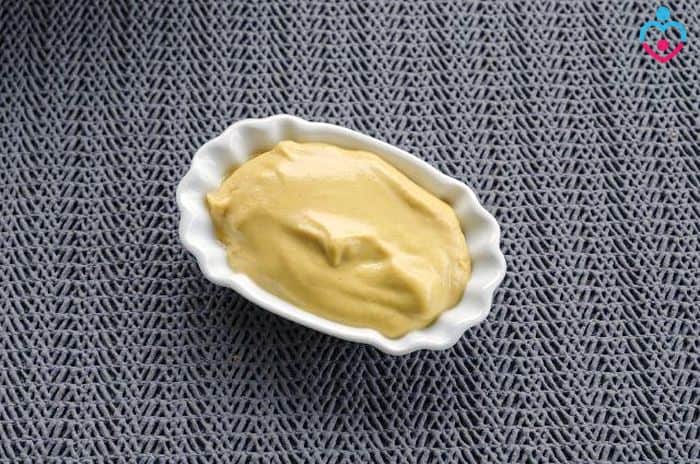 As there are many kinds of Mayonnaise, tuna mayo is a trendy food among tuna lovers and mayonnaise fans. It is a classic mayonnaise combined with tuna and converted into a paste. But is it suitable for your baby?
Since we established that babies can eat Mayo starting at six months of age, the only question lies on the tuna. Your baby can have tuna as well as soon as they turn six months old.
Tuna is rich in a lot of nutrients and protein that will benefit your baby's growth. The primary nutrients that are important in tuna mayonnaise are protein, fatty acids, and various vitamins B.
Tuna will support your baby's brain development and their immune system, and overall health.
If you make the tuna mayonnaise at home, keep the salt to a minimum, as babies don't need a lot of salt. You can always add more in your portion and keep theirs with fewer seasonings.
If you purchase tuna mayonnaise already made, keep an eye on the ingredients. You want to stay away from products containing preservatives and chemicals as well as a high quantity of salt and sugar.
Suggested Reading:

Can Babies Have Light or Low-Fat Mayo?
Low-fat Mayonnaise is also an option that you can offer to your baby. Since it contains less fat than regular Mayo, it can even be a healthier option for them.
Generally, a low-fat mayonnaise can't contain more than three grams of fat per 100 grams of the product. However, low-fat Mayonnaise will look and taste different than regular Mayo. It will also have a different texture as well.
To obtain low-fat Mayo, you will have to reduce the oil quantity. This is the main difference between full-fat Mayo and the low-fat version.
When it comes to your baby, less oil will benefit, so low-fat Mayo could actually be an excellent choice for them.
You can also find on the market low-fat Mayonnaise with or without eggs. Choose the one that will suit your baby's tastes and needs best.
If your baby is allergic to eggs, for instance, a low-fat vegetal mayo is a wise choice for them.

Can Babies Have Egg Mayo?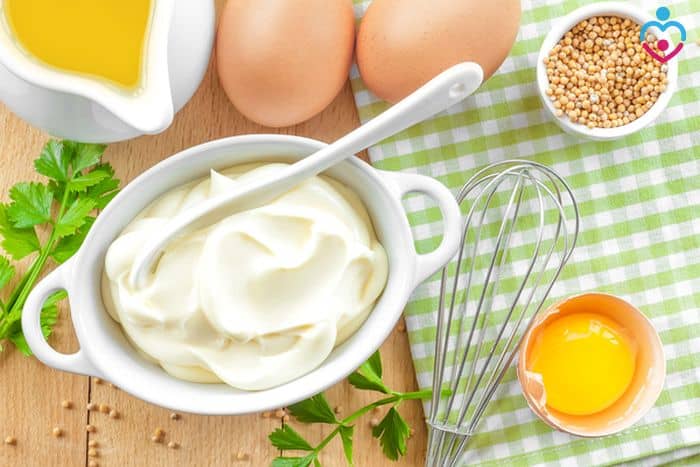 The most popular type of Mayonnaise is the one that contains eggs. As long as your baby has no problem with eating eggs, this Mayonnaise is safe for them. But if they have an intolerance or allergy to eggs, you want to skip this food altogether.
If you make the Mayonnaise in the house, the only risk is presented by raw eggs, which can contain dangerous bacteria such as salmonella.
Even if this is extremely rare, you want to cook the eggs beforehand to stay on the safe side. On the other hand, you will not have this problem with bought Mayonnaise as it contains pasteurized eggs.
If you notice any allergic reaction in the next four days after feeding your baby egg mayonnaise, skip giving them this food. In this situation, you might want to contact your pediatrician to establish if they are intolerant to eggs or allergic.

Can Babies Eat Store-bought Mayonnaise?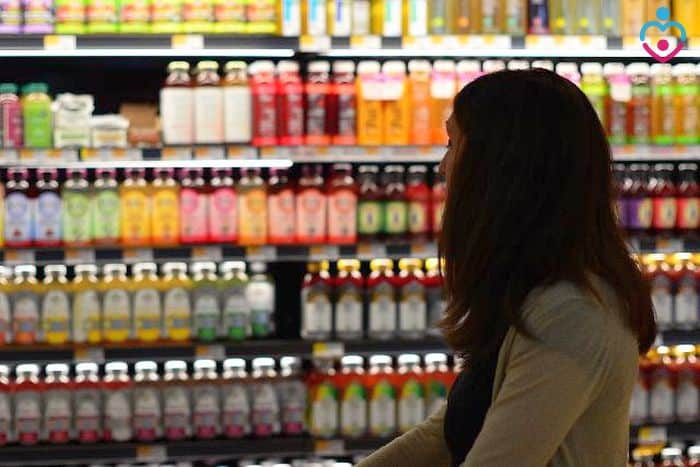 We don't always have the time to make Mayonnaise in the house, so the store-bought Mayo becomes a convenient and accessible option. As long as you read the tag of such a product carefully, you should be safe, giving it to your baby.
If you give your baby a store-bought mayonnaise, choose one made of as few ingredients as possible.
Stay away from those products that contain preservatives or chemicals that could harm your baby. Also, try to choose an option that is low in salt and sugar.
Low-fat Mayo might also be a better alternative to regular fat Mayo, especially for babies younger than one year.
Suggested Reading:

Can Babies Eat Heinz Mayonnaise?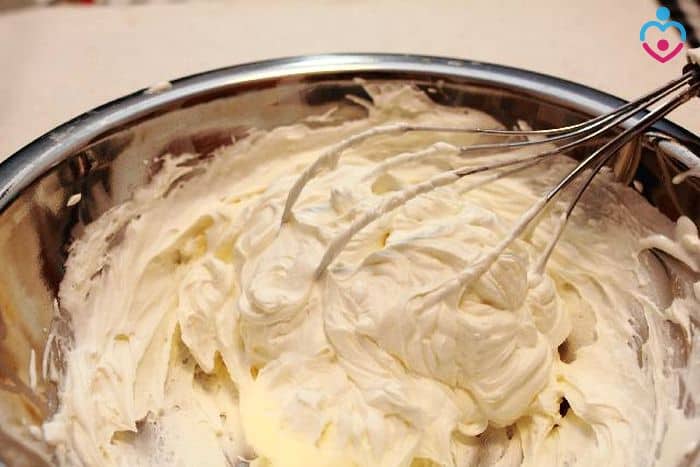 Heinz mayonnaise, just like any other mayonnaise, is suitable for babies and toddlers as long as you introduce it to their diet in moderation.
Just like Hellmans, Heinz is a brand that produces Mayonnaise with pasteurized eggs, which makes it safer to eat than other versions.
But just like other brands of Mayo, Heinz offers a wide variety of products to choose from. If you stick to the original, unflavored version, you shouldn't have to take any risks.
Heinz uses few ingredients and of very high quality. While you check the range of products of this brand, you will find plenty that is made of excellent and delicious recipes and safe for your baby.

Can Babies Eat Mustard?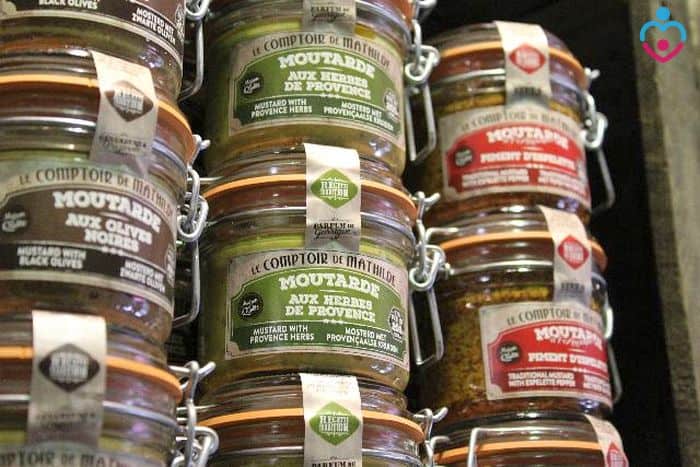 Now that we cleared out the dilemma regarding Mayonnaise, you might wonder if your baby can eat mustard.
You can give your baby mustard once they turn eight months old. However, you should wait until they are at least 1 year old when it comes to honey mustard.
Mustard seeds used as seasonings in different purees can be added to your baby's diet when they are at least nine months old.
The discussion regarding honey mustard is ample. Babies shouldn't eat honey before one year old because they cannot digest it, and there is a risk of botulism.
However, once they turn one year old, the risk of botulism decreases until it disappears, so you will not have to worry about honey mustard anymore.
You can mix half a teaspoon of mustard in your baby's puree to add to the flavor. If your baby doesn't present any mustard reactions, you can keep adding it to their meals.
However, if they develop a rash or have problems breathing, and if they experience cramps, stop giving them mustard and consult your pediatrician.

Top 5 Simple Baby-led Weaning Mayo Recipes
1. Mayonnaise with tuna
You can combine Mayonnaise with tuna and create a delicious meal for your toddler.
Pick a tuna that is low in salt and without any other flavors. Try to find an original mayo with low salt, sugar, and even low fat as well.
All you have to do is mix one part mayo with two parts tuna until you obtain a homogeneous consistency.
You can even use homemade Mayonnaise. Whatever mayo type you choose, make sure it contains pasteurized eggs to stay on the safe side.
Raw eggs are not only harder to digest, but they can also contain dangerous bacteria like salmonella.
Suggested Reading:

2. Mayonnaise with veggies
You can also combine Mayonnaise with different veggies. You will need about two tablespoons of Mayo and eight to ten ounces of vegetables.
Boil the veggies or steam them until they become soft in texture and allow them to cool down.
Cut them into small cubes and mix them with the Mayonnaise.
If your baby can't chew yet, you can add the mix into the blender and create a delicious puree.
As for the veggies that you can use, try to stick to a maximum of three different ones. Too many veggies can upset your baby's tummy. The right combination is potatoes with carrots and red peppers.
Suggested Reading:

3. Mayonnaise with chicken
Chicken meat is one of the best meat you can introduce to your baby's diet once you start solid food. And if you mix the chicken meat with Mayonnaise, you can't fail as your little one will love the taste of this dish.
You will need about eight ounces of chicken breast and one or two tablespoons of Mayonnaise.
You can also add some potatoes to enrich the taste, but it is not necessary.
Boil the chicken and the potatoes and cut them into small cubes.
Mix them both with the Mayonnaise and allow the dish to cool down before serving it to your baby.
A medium-sized potato should be enough for this recipe.
Suggested Reading:

4. Mushrooms and Mayonnaise
Mushrooms and Mayonnaise are also a delicious combination that your little one will enjoy at all times. You will need to saute the mushrooms in a pan for up to five minutes with a bit of salt.
You can use olive oil for this, but depending on the pan you have, you might not need oil.
Use about 10 ounces of mushrooms as they will lose their volume once you cook them.
Allow the mushrooms to cool down before you add the Mayonnaise to them gradually.
You don't need to add more than one tablespoon of Mayonnaise.
Use homemade or bought Mayonnaise as you please.
Suggested Reading:

5. Mayonnaise and sweet potatoes
The last but not the least combination that your baby will simply love is Mayonnaise with sweet potato soup.
You will need one medium-size sweet potato, half an onion, and just one tablespoon of Mayonnaise.
Boil the sweet potato and the onion until they become mushy.
Add them to a blender along with enough water to obtain a creamy consistency. You can use the water you boiled the veggies in.
Adding a pinch of salt will also enrich the taste of the soup. Allow the mix to cool down and add the Mayonnaise before serving the dish to your little one.
Suggested Reading:

Mayonnaise can be one of the best sauces you can add to your toddler's meals if you want to give them more flavor. But it is essential to check the ingredients if you choose store-bought Mayo.
Make sure the product doesn't contain too much salt or sugar, and stick to Mayonnaise's unflavored type at first.
Besides the health benefits that your baby will get from Mayonnaise, they will also develop their taste buds and become more open to other dishes.

Key References