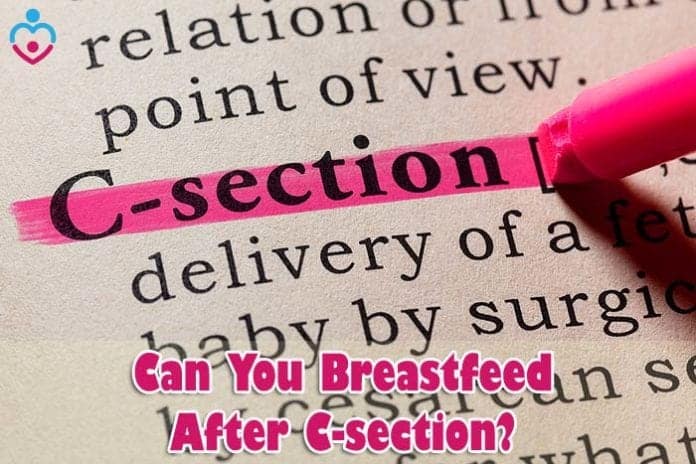 You can definitely breastfeed after a Caesarean-Section (C-Section) similar to how you would go after a natural birth. But you have to consider that there will be changes from natural birth to a C-Section delivery.
If you wondering how to succeed at breastfeeding after c-section, read on.
Can You Breastfeed After C Section?
Yes. Breastfeeding after a C-Section is not only possible, but it is also recommended for both your health and your baby's health. However, understanding the challenges that come along with breastfeeding your baby after a C-Section is essential to be successful in this process.

How Soon Can You Breastfeed After C-Section?
The time when you can breastfeed depends on the type of anesthesia you had during your C-Section.
There are rare cases, usually during emergency C-Sections that require general anesthesia. But most C-Sections are done with local anesthesia, also known as an epidural or, more commonly, spinal anesthesia.
In both cases, you will have to wait for the anesthesia to run off before you start breastfeeding your baby.
The epidural anesthesia will pass faster, and if you had this type, you might be able to start breastfeeding as soon as you give birth or in the next hour.
However, general anesthesia lasts for several hours, and you will feel drowsy when it starts to get out of your system, which will delay the first breastfeeding.
Suggested Reading:

Breastfeeding Positions After C-Section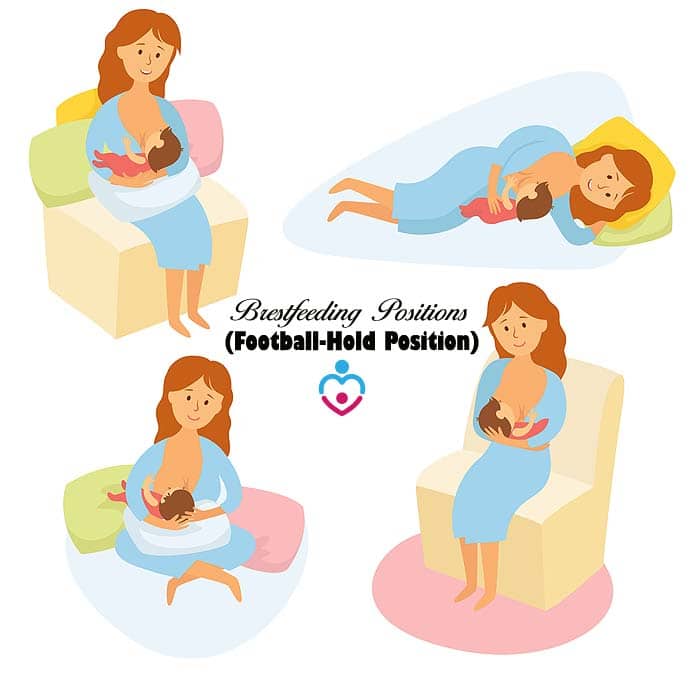 Once you can breastfeed, you will wonder what positions are best to try out, considering that you just went through a C-Section.
This is a serious surgery that will leave you in uncomfortable pain. You will find it difficult to move or even get out of bed for a few days.
However, the total discomfort can last up to several weeks. If you want to breastfeed your baby, it is essential to find a comfortable position for both of you.
The key here is to find a position that doesn't add too much pressure on your incision.
While your doctors will guide you in this process, there are some potions you will discover on your own such as side-lying position, football hold, or cradle position.
Many mothers find the side-lying position to be one of the most comfortable positions after a C-Section.
This is even better during the first 2 or 3 days after the surgery when you are a lot more sensitive.
The football hold position will require a support pillow. There are many such pillows online that you can invest in, and you will find them useful even after the surgery's pains are over.
As for the cradle position, you will need a pillow for this one as well. Try out these breastfeeding positions and see what suits you best.
Suggested Readings:

Low Milk Supply After C-Section
Another aspect you have to consider is the low milk supply, which might happen after you had your C-Section.
This depends on the time you had the surgery and what stage of the pregnancy, your baby and your body were in.
Generally speaking, once you reached 37 weeks of pregnancy, you shouldn't have any issues with your breast milk supply.
But if you gave birth through a C-Section prematurely, you will struggle with this aspect a lot more. In this case, you may need to opt for a breast pump to stimulate your breasts while you are at NICU.
If you notice that you have a delay in breast milk, it is important to keep trying.
Latch your baby to your breast as this will stimulate your breast milk supply, and eventually, you will move past this issue.
However, stimulating your breasts should be an attempt you do right away as soon as you gave birth to your baby.
In some cases, this might not be possible if one of you needs extra care.
Suggested Reading:
The solution to such a problem is using a breast pump. Breast pumps are great for stimulating breast milk supply, they are affordable and relatively easy to use once you learn their features.
If you have to use a breast pump, you should pump every couple of hours to stimulate your breast milk flow. Eventually, you will be ready to feed your baby as you want and as they need.
Suggested Reading:

Not Breastfeeding After C-Section
If you decide to not breastfeed after a C-Section, you can do that out of particular medical reasons or out of a personal choice.
Not breastfeeding your baby will not mean that your body will not produce milk.
However, you can stop the milk flow by not stimulating your breasts at all.
So, all you have to do is not breastfeed or pump if you don't want to breastfeed anyway.
Your milk supply should dry out in a few days, and you can feed your baby the best formula you find adequate by taking into account the doctor's recommendations.
Suggested Reading:

Food to Increase Breast Milk After C-Section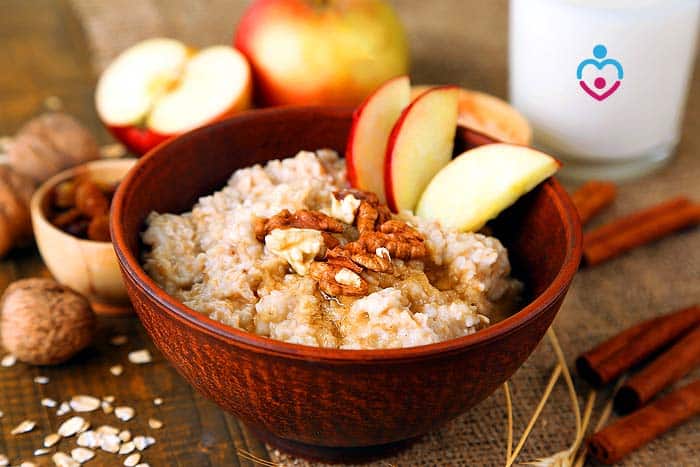 If you are struggling with milk supply, you should know that there are natural remedies to increase it.
Your diet is vital in the process of increasing your milk supply, and with some minimal changes, you could really add to your baby's meals.
Oatmeal or oat milk are excellent foods to add to your diet, especially to your breakfast.
Oat is rich in iron, and iron deficiency is one of the primary causes of low milk supply.
Another ingredient that will help increase milk supply is fenugreek. Fenugreek is known for its delicious taste but also for containing estrogen compounds that will increase your milk supply.
It is essential to take your protein from clean sources such as leat meat and poultry as well.
Without enough protein, your milk supply will be decreased, or the quality of the milk will not be the same.
Garlic is another miracle ingredient that might help you with this aspect. Simply add some garlic to your lunch or dinner, and you will help your milk supply get back on track.
But keep in mind that there is no scientific evidence that backs up these foods like breast milk boosters. It depends on the deficiencies you have in your body and the way your body assimilates different foods.
Overall, however, you have nothing to lose by trying as they are all healthy foods that will bring you plenty of benefits.
Suggested Readings:

Benefits of Breastfeeding After C-Section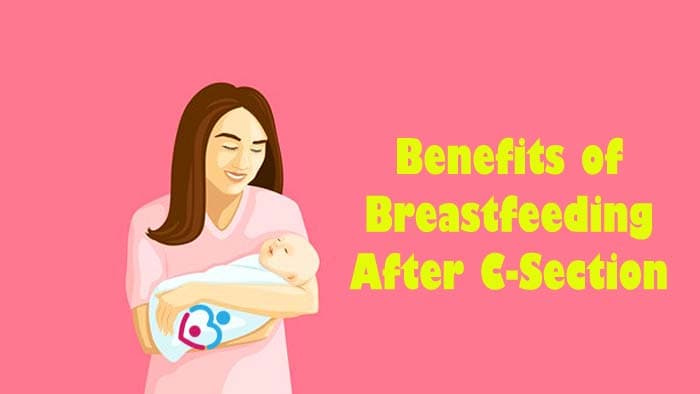 You might wonder if it is even worth trying to breastfeed after you had a C-Section. However, the benefits that breastfeeding brings to your baby and even to you as a mother, are so significant that they should be on top of your list.
Breastfeeding is vital for your baby's development regardless of the birth method you opted for.
You can successfully breastfeed if you had a C-Section, and the benefits of offering your baby the right nutrients from your breastmilk still apply in this case.
Babies who are breastfed tend to have a more reliable immune system, and they are more resistant to infections or cold and flu.
For you are a mother, breastfeeding brings a series of benefits as well. You will feel more connected to your child, and you will find the transition from pregnancy and motherhood more comfortable and more natural.
But while these are general benefits of breastfeeding, a specific advantage seems to be that it helps alleviate pain after the C-Section.
Suggested Readings:

The research was done by the Euroanaesthesia Congress in Geneva in 2017.
The results showed that mothers who chose to breastfeed at least 2 months after giving birth through a C-Section surgery were less likely to suffer from chronic pain.

Key References
"The impact of caesarean section on breastfeeding initiation, duration and difficulties in the first four months postpartum | BMC Pregnancy and Childbirth | Full Text". Accessed August 05, 2020. Link.
"Breastfeeding may protect against chronic pain after Caesarean section — ScienceDaily". Accessed August 05, 2020. Link.